JASON BECKER REVEALS VIDEO FOR NEW SONG "HOLD ON TO LOVE," ALBUM "TRIUMPHANT HEARTS" OUT DECEMBER 7TH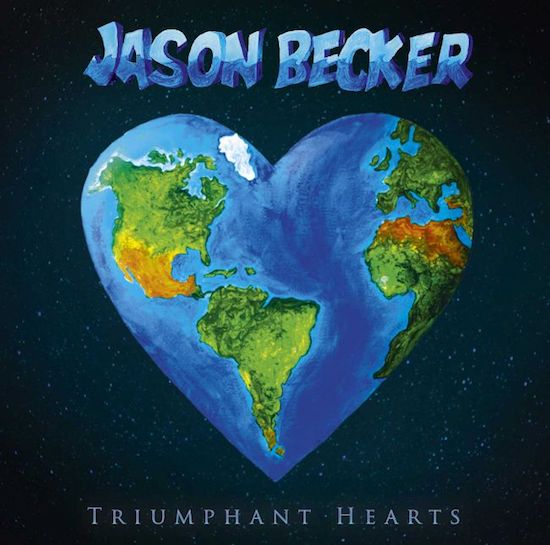 As previously reported, Jason Becker will be releasing his new album, Triumphant Hearts, which will be released on December 7th via Music Theories Recordings/Mascot Label Group.
Becker has released a new video for the song, Hold On To Love, which can be viewed below.
Talking about the new song he says; "This is my story, and in a way, everyone's story. Life – we are all just trying to be happy. People are baffled that I can be happy after almost 30 years with ALS. Even I sometimes wonder how it is possible. This song is the simple answer. Most of this video takes place in my mind. I am talking to myself, looking for answers, thinking about the past and some of the people I love, and it all comes out in music."
Elaborating furhter on the song he says; "I wrote the first melody years ago on a flute sample and the chords on a harp sample. I knew I would want a guitar to play it, so I phrased it like I would play it on guitar. It was going to be an instrumental, but after I wrote the chorus with lyrics, I knew I had to tell my story, and explain how I can continue living without feeling hate. I hadn't written many lyrics before. Most of them came to me, along with the melody phrasing, as I lie in bed alone at around 2AM. Silence is good for writing music. The following day when I got in my wheelchair, I would put the melody in, and then type the words. "
He continues; "You know, people feel sorry for me, and I understand that. I feel lucky though. I am surrounded by loving people, and I can still make music. I don't miss playing guitar anymore. I am sure that is out of necessity, but I am grateful for so much more. My sadness comes from seeing everyone else suffer. No matter how well off a person is, they are going to die like everyone else. We all are just trying to be happy. I am trying to find the answer like everyone else."
To read more details about Triumphant Hearts, and to listen to Becker's first released song, Valley Of Fire, please click here.
Triumphant Hearts tracklist:
1. Triumphant Heart (ft. Marty Friedman, Gluaco Bertagnin, Hiyori Okuda)
2. Hold On To Love (ft. Codany Holiday)
3. Fantasy Weaver (ft. Jake Shimabukuro)
4. Once Upon A Melody
5. We Are One (ft. Steve Knight)
6. Magic Woman (ft. Uli Jon Roth, Chris Broderick)
7. Blowin' In The Wind
8. River of Longing (ft. Jon Satiriani, Aleks Sever, Guthrie Govan, Steve Morse)
9. Valley of Fire (ft. The Magnificent 13)
10. River of Longing (ft. Trevor Rabin)
11. Taking Me Back
12. Tell Me No Lies
13. Hold On To Love (ft. Codany Holiday) [Chuck Zwicky Remix] 14. You Do It