STRYPER FRONTMAN MICHAEL SWEET ON GEORGE LYNCH ELIMINATING THE LYNCH MOB MONIKER, "THERE'S GOTTA BE SOME SORT OF MIDDLE GROUND"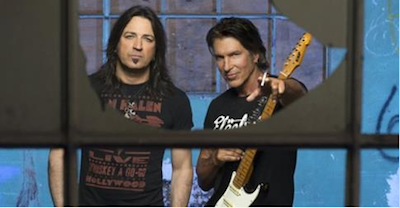 Stryper frontman, Michael Sweet, was recently asked in an interview about his Sweet/Lynch partner, guitarist George Lynch's decision to retire his Lynch Mob band name.
Sweet told Anne Erickson of  Audio Ink Radio (as per blabbermouth.net),  "I heard that too, which is interesting. I'm not sure [about his reasons for doing it]. I haven't talked to George personally about that and if it's based on trying to be politically correct and not offend people. The sad part about that is that's George's name. It's, like, dude, that's your name. You're gonna change your name? It's just so interesting to see."
"There's gotta be some sort of middle ground," he continued. "It seems to me, in the world that we live in, it's one way or the other — there's no middle ground. And we all have to kind of keep our common sense and let there be some sort of middle ground.
Maybe George has other convictions that are causing him to wanna not record under that name, Lynch Mob, I kind of get that. The 'Mob' adds a little extra …concern to the name. But, you know, you can't stop using your name… So, if someone has the name White, are they gonna change their name? It's their name. [Laughs]"
In related news, Stryper will be releasing their new album Even The Devil Believes on September 4th. To read more about this release, and to view a lyric video for the first single, Blood From Above, please click here.