MR. BUNGLE RETURN WITH "THE RAGING WRATH OF THE EASTER BUNNY DEMO"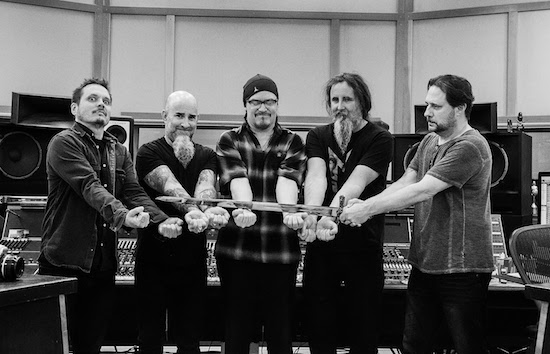 Mr. Bungle, who a year ago today announced their first live outings in two decades, have announced the release of The Raging Wrath Of The Easter Bunny Demo on October 30th via Ipecac Recordings.
As was the case with the live performances, original Mr. Bungle members Trevor Dunn, Mike Patton, and Trey Spruance are joined by Scott Ian (Anthrax, S.O.D.) and Dave Lombardo (Dead Cross, Slayer, Suicidal Tendencies).
The 11-song release features tracks written by the Eureka, Calif.-born band for their 1986 cassette only demo as well as a reimagined cover of the S.O.D. classic Hypocrites / Habla Español O Muere (a.k.a. Speak English or Die) and Corrosion of Conformity's Loss For Words. A video for Raping Your Mind is available now.
"Recording THIS music with THESE guys was an enormous head-rush of virtuosity and surprises every day in the studio," explains Patton. "Trey's video game-esque solos, Scott's bionic right hand and cyborg-like precision, Dave's caveman-meets-Bobby Brady-like drum fills, Trevor's solid foundation and laser-focus to detail. There is nothing sweeter than getting your ass kicked by true comrades…where everyone has a singular drive and mission."
The Raging Wrath Of The Easter Bunny Demo pre-orders are available here, with the release available as a standard digipak CD and digitally as well as a collection of limited edition offerings:
CD Yearbook – 5000
Cassette Webstore Exclusive – 500
2LP Translucent Ruby Red Vinyl – 6500
2LP Webstore Exclusive Clear with Black Splatter Vinyl – 1000
2LP US Webstore Exclusive Silver with Red/Black Splatter Vinyl – 1000
2LP US Retail Exclusive Clear with Blood Red Splatter Vinyl – 2000
2LP International Retail Exclusive Transparent Red Smoke Vinyl – 3500
The Raging Wrath of the Easter Bunny Demo track list:
Grizzly Adams
Anarchy Up Your Anus
Raping Your Mind
Hypocrites / Habla Español O Muere
Bungle Grind
Methematics
Eracist
Spreading The Thighs of Death
Loss For Words
Glutton For Punishment
Sudden Death