STONE TEMPLE PILOTS REVEAL NEW SINGER, POST NEW SONG ONLINE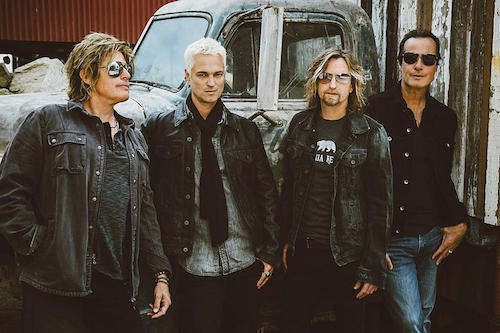 After nearly two years since Stone Temple Pilots launched the search for a new singer, the pieces have fallen into place.
The group made their debut with former The X Factor contestant Jeff Gutt. Jeff Gutt, last night (November 14th) in Los Angeles. There band have also posted their a song Meadow, online. Listen to it, below.
Those in attendance at last night's show at the Troubadour got a 13 song introduction to the new singer. STP opened their set with Down, running through a number of other all-time hits, as well as debuting Meadow and squeezing in a cover, MC5's Kick Out the Jams.
Rumors suggested Gutt had been selected in November last year, two months after he auditioned, but the band insisted "no decision" had been taken. They've now said that he was formally hired in May this year, and that he's spent several months writing and recording with colleagues Dean DeLeo, Robert DeLeo and Eric Kretz.
Bassist Robert DeLeo revealed he'd encountered Gutt while he was touring with the Hollywood Vampires in Detroit, MI. "After the show there was a musician who said, 'Hey, man, you should check this guy out.' And that's where I kind of heard of him first; it was through that guy. And it just happened that it came together like that."
Gutt compared the role to joining Led Zeppelin, "To me, they're my Led Zeppelin." He explained: "I had heard about [the auditions] but I was on tour in the Middle East with my band at the time… And then when I got back, I was driving and I heard, I can't remember what song it was, but a Stone Temple Pilots song came on the radio. So I called my buddy in New York who knows everybody in the music industry, and I was like, 'Hey, did they ever find a singer?' And he was like, 'You know what? I'll send 'em your stuff right now.' And three days later, I got a call."
He added that he felt that he'd secured the position "before I even got in the room, to tell you the truth, just because if you don't feel that way, you're probably not going to get it. You have to be confident. I mean, not cocky confidence – but I know my s–t. I know what I'm doing. I've studied my craft, I've studied Scott and the people Scott studied, and other singers of the era. I've really put a lot of time into that, and if you're not willing to do all of that, you're not going to be on the level to even be around these guys."
Gutt was a runner up in the third season of The X Factor after performing songs including Queen's Bohemian Rhapsody, Radiohead's Creep and Aerosmith's Dream On.
source: Ultimate Classic Rock