SMITH/KOTZEN RELEASE LYRIC VIDEO FOR THIRD SINGLE "RUNNING" DEBUT ALBUM DUE MARCH 26TH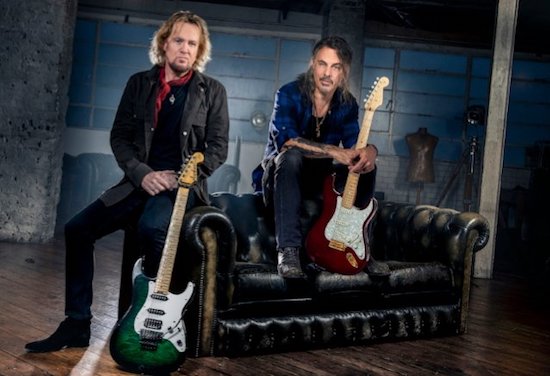 Smith/Kozten have a released a lyric video for the song Running off of their forthcoming eponymous debut due March 26th through BMG.
Smith says of the song, "It's a really cool sort of driving track, one of the heavier ones on the album and we're excited to get it out there ahead of the album release. We've both been thrilled by the reaction to our music so far and are very much looking forward to meeting up again as soon as we can, to write some more songs together."
Kozten adds, "Running was the first song Adrian and I worked on. Adrian came in with that heavy verse riff, which led me to conjuring up what lives as our chorus to the composition. Running is surely one of my top three favorites on the Smith/Kozten album and I really look forward to playing this one live."
As well as the duo co-writing, co-producing and sharing guitars and vocals, Kozten also plays bass and drums on the track.
Listen to Running below.
Smith/Kotzen had perviously released two other songs. Click on the highlighted titles to listen: Taking My Chances and Scars.
Smith/Kotzen track listing:
1. Taking My Chances
2. Running
3. Scars
4. Some People
5. Glory Road
6. Solar Fire
7. You Don't Know Me
8. I Wanna Stay
9. 'Til Tomorrow
The album will be available in these formats:
Digipack CD
12" black vinyl with embossed sleeve
Digital (streaming and download)
Limited edition 12" red & black smoke effect colored vinyl
For more information go to: Smith-Kotzen.lnk.to/albumPR