BASSIST GEEZER BUTLER CONFIRMS "SLAPBACK" IS AN UNRELEASED BLACK SABBATH SONG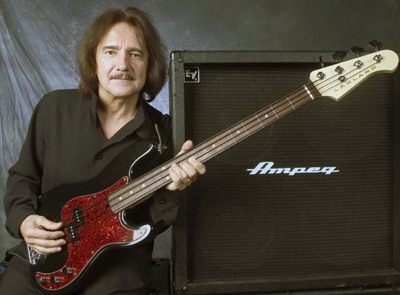 Bassist Geezer Butler has confirmed that he is featured on a previously unreleased Ronnie James Dio-era Black Sabbath song titled Slapback which was uploaded to YouTube several days ago.
Gary Rees, the stepson and executor of the estate of Black Sabbath's longtime keyboardist Geoff Nicholls, shared the tune last Friday (March 5th), writing in an accompanying message that he had found it on a cassette tape that contained other material recorded during the band's 1979 songwriting sessions for the following year's album Heaven And Hell.
When asked in an interview with SiriusXM's Trunk Nation With Eddie Trunk on Monday (March 8th) if he knew anything about this purportedly unreleased track, Butler said (as per blabbermouth.net): "Yeah, that was one of the songs that we did before I left," referring to the fact that he exited  the group for a short time during the Heaven And Hell sessions while he was dealing with some personal issues. "It's probably the reason I did leave. [Laughs] It was just one of those songs that didn't make the grade."
When questioned as to whether he played bass on the unreleased song , Butler stated,"Yeah, that was right before I left. It was just a one-off thing. We just jammed it and didn't think anything more of it. It didn't really work."
Butler added that it's "incredible" to see both these recordings see the light of day more than 40 years later. "And it's quite good quality as well," he said. "I've heard the two songs from the Geoff Nicholls thing. It's reasonable quality."
Singer Ronnie James Dio joined Black Sabbath for the first time in 1979 Dio's first album with the band, Heaven And Hell was released in April 1980.
Released on March 5th, Heaven And Hell: Deluxe Edition added several bonus tracks that have never been made available in North America, including versions of Children Of The Sea and Die Young recorded live in 1980 in Hartford, Connecticut. The set concludes with live rarities like "E5150" and "Neon Knights" that originally appeared in 2007 on the Rhino Handmade's limited edition collection Black Sabbath: Live At Hammersmith Odeon.
Listen to Slapback below.