SLASH FT MYLES KENNEDY AND THE CONSPIRATORS: ANNOUNCE SUMMER U.S. HEADLINING TOUR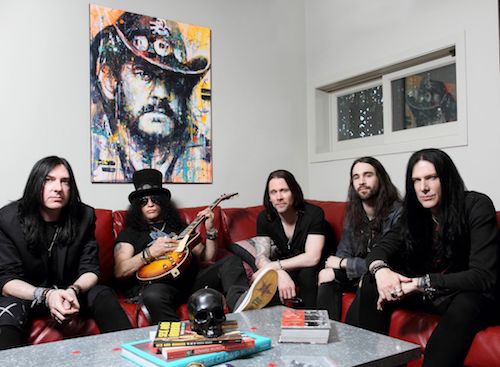 As Slash ft. Myles Kennedy And The Conspirators–Slash (guitars), Myles Kennedy (lead vocals), Todd Kerns (bass), Brent Fitz (drums) and Frank Sidoris (rhythm guitar) are currently on their worldwide tour through Asia, New Zealand, Australia, Europe and the U.K., the group has announced they'll kick off a headlining U.S. tour this summer. The U.S. trek will launch on July 15th in San Francisco and wrap-up August 13th in Orlando. Tickets will go on-sale this February 8th at 10AM local time and are available at slashonline.com.
The iconic, GRAMMY-winning guitarist Slash and his band, Slash ft. Myles Kennedy And The Conspirators are touring worldwide in support of their acclaimed third album, Living The Dream, and will release the new single Mind Your Manners (which can be streamed here) on February 4th. The song–which already debuted at #39 ahead of its official radio impact date–follows the first single, Driving Rain, Slash's fastest rising single to date—which recently became the band's 5th Top 5 hit in a row at Rock Radio.
"I wrote Mind Your Manners on the spot to help the band get up and running once we got back in the studio," explains Slash. "It's just a go-for-it type of rock song. Straightforward and fun to play."
"Mind Your Manners was something I didn't even hear until the guys had already started jamming together in the studio," adds Myles Kennedy. "I listened to the final rough arrangement, and I thought it was a really cool, up-tempo sort of thing.' Lyrically, it's about how when things are going well there always tends to be someone who tries to rain on your parade and knock you down. You have to keep people like that in check and not let them get to you."  

Tour dates:
July 15 – San Francisco, CA – The Warfield Theater 
July 17- Seattle, WA – Showbox SoDo 
July 18 – Vancouver, BC – Queen Elizabeth Theatre 
July 20 – Edmonton, AB – Edmonton Convention Centre 
July 21 – Calgary, AB – Grey Eagle Resort & Casino 
July 23 – Winnipeg, MB – Burton Cummings Theatre 
July 25 – Milwaukee, WI – Pabst / Riverside / Turner Hall 
July 26 – Windsor, ON – Colosseum at Caesars Windsor 
July 29 – Toronto, ON – Rebel 
July 31 – Port Chester, NY – The Capitol Theatre 

Aug. 1 – Northfield, OH – Hard Rock Rocksino Northfield Park 
Aug. 3 – Prior Lake, MN – Mystic Lake Casino Hotel 
Aug. 6 – Nashville, TN – Ryman Auditorium 
Aug. 7 – Fort Wayne, IN – Performance Pavilion at Sweetwater 
Aug. 9 – Council Bluffs, IA – Harrah's – Stir Cove 
Aug. 12 – Atlanta, GA – Tabernacle Atlanta 
Aug. 13 – Orlando, FL – Hard Rock Live Orlando
Living The Dream, is the third full-length offering from Slash ft. Myles Kennedy And The Conspirators.
Fans can purchase, or stream, Living The Dream, here. 

Slash Ft Myles Kennedy And The Conspirators are: 

Slash (guitars), 
Myles Kennedy (vocals) 
Todd Kerns (bass)
Brent Fitz (drums) 
Frank Sidoris (rhythm guitars)


Follow Slash Ft Myles Kennedy And The Conspirators on the following platforms: