SKID ROW UPLOAD AUDIO FOR NEW SONG "TIME BOMB," NEW ALBUM "THE GANG'S ALL HERE" DUE SEPTEMBER 28TH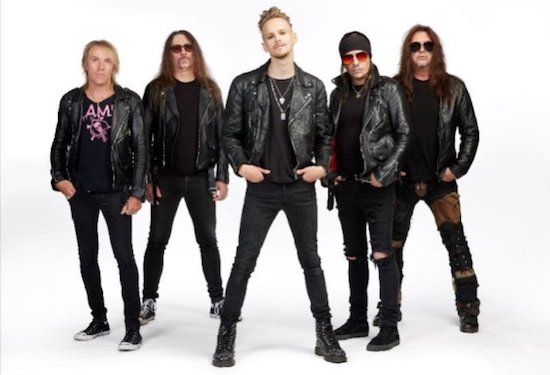 Skid Row has released a new single, Time Bomb, taken from the band's upcoming album The Gang's All Here. The official music video for Time Bomb, will be made available on September 28th, was helmed by director Dale "Rage" Resteghini (Five Finger Death Punch, Guns N' Roses) whom  bassist Rachel Bolan sought out to realize his artistic vision for the song about humanity's continuing struggles with self-indulgence and monotony.
"What would it be like to be in that position?" Rachel asks. "Just be completely going about life, your normal everyday thing, but you're thiiiiis close to just completely losing your shit?"
Rage, known for his ability to get extremely visceral performances and coming up with eye catching visuals, collaborated with Bolan while using the film world's latest breakthrough in cinematography, the brand-new Arri Alexa 35 and handcrafted MasterBuilt Classic Lenses helping create the stellar look for Time Bomb.
The Gang's All Here will arrive on October 14th through earMUSIC. The group recorded most of the LP in Nashville, Tennessee with producer Nick Raskulinecz, who has previously worked with Rush, Alice In Chains, Foo Fighters, among many others.
The Gang's All Here track listing:
1.  Hell Or High Water
2.  The Gang's All Here
3.  Not Dead Yet
4.  Time Bomb
5.  Resurrected
6.  Nowhere Fast
7.  When The Lights Come On
8.  Tear It Down
9. October's Song
10. World's On Fire
Watch Skid Row's official fan video, for the title track, below:
Video for Tear It Down:
Swedish singer Erik Grönwall joined Skid Row in January as the replacement for ZP Theart, who had been in the group for more than six years. Theart played his final show in February, before being dismissed from the band.
Grönwall was a member of the Swedish hard rock band H.E.A.T. with whom he recorded four studio albums — Address The Nation (2012),Tearing Down The Walls (2014),Into The Great Unknown (2017) and H.E.A.T II (2020) — before leaving the group in October 2020.