SKID ROW POST A SHORT TEASER OF "UNITED WORLD REBELLION: CHAPTER TWO" ONLINE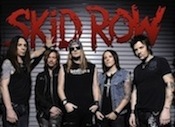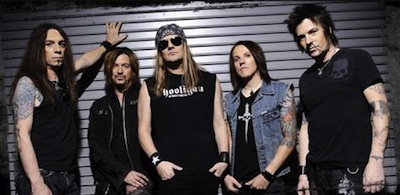 Skid Row is surprising their fans with an unusual way to release their new music. Instead of one full album, the band is releasing three mini albums over the course of several months. Rachel Bolan states, "We wanted to do something different and the idea of releasing three mini albums, appealed to me. Especially with the constantly changing musical climate I liked the idea of a steady flow of new music we decided to release it this way to keep new music coming for our fans."
Rise Of The Damnation Army – United World Rebellion: Chapter Two, will be released on August 4th in Europe as CD digipack, 180 Gram single vinyl gatefold and digital. Megaforce Records will release the CD on August 5th in the US and it will be released to the rest of the world via UDR/ADA/Warner on August 6th.
Most of the songs were written in Atlanta, Georgia, but a lot of the lyrics were written while the band was on the road. As with United World Rebellion: Chapter One, Skid Row worked very hard on Rise Of The Damnation Army as time is always an issue while the band is touring so much. The songs are some of their most aggressive ones to date and very heartfelt. Listening to them you hear the full explosion and intensity and you want to just throw your fists in the air and conjunct with them for a United World Rebellion.
The EP will also contain as bonus tracks covers of Queen and Aerosmith classics. Asking why they chose the cover songs the band stated, "These songs fit seamlessly into the subject matter of United World Rebellion: Chapter Two. They both have that 'get up and fight' attitude. These songs were from our youth that meant a lot and as far as we know, no one has covered them, and more important, the songs are still exciting and fit perfectly with the attitude of all other songs on the album."
Skid Row were showered with gold and platinum awards, their debut album sold over 5 million copies in the US alone, but not resting on their laurels, Skid Row is one of the hardest working bands ever. They've been around for more than 25 years and are still going strong.
Rise Of The Damnation Army – United World Rebellion: Chapter Two track listing:
1. We Are The Damned
2. Give It The Gun
3. Catch Your Fall
4. Damnation Army
5. Zero Day
Bonus tracks:
6. Sheer Heart Attack (Queen)
7. Rats In The Cellar (Aerosmith)
As previously reported, Skid Row is currently out on the road with Black Star Riders. Remaining tour dates appear below.
7/9 Rochester, NY Montage Music Hall
7/10 Cleveland, OH Agora
7/11 Newport, KY Thompson House
7/12 Arlington Heights, IL Home Bar
7/13 Watseka, IL Watseka Theater
7/17 Peoria. IL Illinois State Fair
7/18 Turtle Lake, WI St. Croix Casino
7/19 Oshkosh, WI Rock USA
7/20 Battle Creek, MI Planet Rock
7/25 Duncannon, PA Tubby's
additional source: sleazeroxx.com