SINGER VINCE NEIL BEING SUED FOR 75K BY WOMAN WHO CLAIMS HE ASSAULTED HER IN LAS VEGAS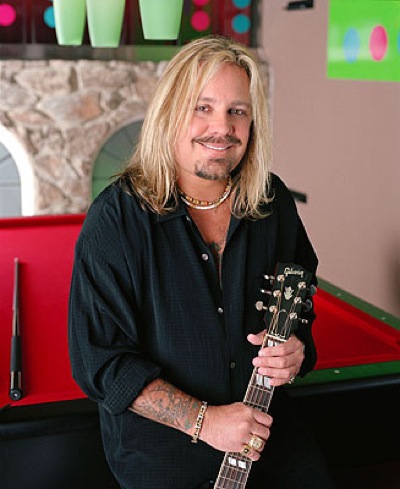 A California woman is suing Motely Crue frontman Vince Neil over an unprovoked attack that put her in the hospital and left her emotionally distressed.
Kelly Guerrero was viciously grabbed from behind by Neil and knocked to the pavement in April before actor Nicholas Cage intervened to hold back his pal.
The lawsuit obtained by Broadly claims that the attack resulted in substantial medical expenses, lost wages, pain and suffering and emotional distress for Guerrero causing her to seek $75,000 from the rocker.
The suit states that Neil was "severely intoxicated or under the influence of powerful drugs" at the time of the incident, according to Broadly.
Guerrero, a registered nurse, said the situation all stemmed from her son spotting a trio of celebrities — Neil, Cage and the comedian Carrot Top — outside of the Aria Hotel when they were leaving.
The single mother shouted to Cage that her son was a huge fan of his films Ghost Rider and City of Angels when things turned ugly, according to the lawsuit.
The alleged unprovoked attack left Guerrero with a back sprain, neck sprain and sacral contusion due to physical assault, according to doctors at the Desert Springs Hospital Emergency Room.
She also went to a personal physician when she returned home who stated she suffered from a fractured tailbone and severe left hip injury, according to the lawsuit.
In a video obtained by TMZ outside of the hotel, Cage is seen putting Neil in a headlock yelling, "I f–king love you, stop this s–t now!"
The singer was charged with misdemeanor battery earlier this month, but has previously denied touching Guerrero. Cage was not accused of a crime.
Neil is scheduled to appear in court on July 27th.
additional source: nydailynews.com/entertainment/gossip