SINGER ROBIN MCCAULEY DISCUSSES HIS NEW BAND, BLACK SWAN, AND HIS TIME WORKING WITH GUITARIST MICHAEL SCHENKER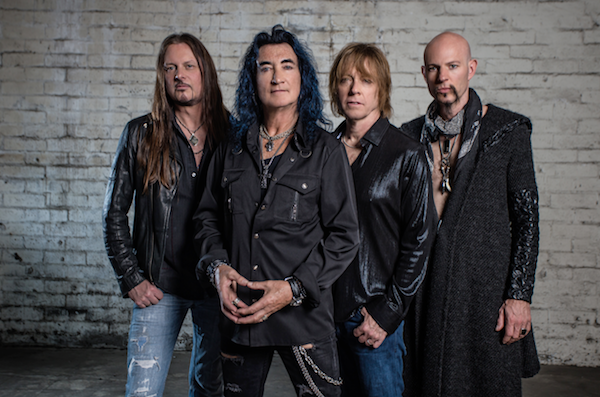 Ruben Mosqueda of KNAC.com spoke with singer Robin McCauley. Portions of the interview appear below.
KNAC.com: Is Black Swan [the band also featuring guitarist Reb Beach, bassist Jeff Pilson and drummer Matt Star] a Frontiers project or are you hoping that this will be an ongoing thing?
Robin McCauley: Well, I was initially approached by Serafino [Perugino] at the label [Frontiers], he said 'I think we should do something, we haven't done anything with you yet. I said, 'That would be great, I wasn't taking it personally.' At the time that I was approached the timing wasn't the best, because I was doing the Schenker thing and was busy with The Rock Vault, we wound up putting that on the back burner. Jeff called me about a year ago, he said that Frontiers had contacted him about putting a band together, he mentioned that he had worked them quite a bit on a production level, he mentioned that his go to guy was Reb [Beach] because he has done some work in Dokken with Reb, then then said he'd love me to be a part of it. He asked what I thought about it? I didn't have to think about it because Reb is just awesome. I was surprised that Jeff didn't want to play bass in this band, he had a bunch of bass players lined up and drummers. We compared schedules and we looked them over, hoping we could find a time when we could all be in the same room together to get to work. In the meantime, Reb had come over to Jeff's studio in L.A. and they had worked on a couple of ideas and they sent them to me. That jumpstarted the project. The label really wanted a 'classic rock' record, it was more of the same. I don't want to do more of the same. We left that hanging until I was able to make it into the studio, I shared with them what I had been working on and sang to them what turned out to be Big Disaster. Reb found that comical he said, 'That's just great. This is the first time we're writing together and you come in here singing about this big disaster'!, I said "You know I didn't even think of that' I thought it was a cool song and it has a great chorus, they agreed, that was the first song that we wrote as a band. That helped push the writing process forward, they continued writing and I continued writing and before you knew it we had 12 songs. It was hard matching our schedules, but we made it work…As we started recording the bass players that Jeff had lined up became unavailable, the same goes for the drummers that he had in mind. We got Matt Starr and he was 'the guy' for this band. I had worked with him in Raiding The Rock Vault and Jeff had worked with him too. It worked out just like it was meant to be, Reb and I were never going to have another bass player in this band, whether Jeff liked it or not [laughs].
KNAC.com: Who suggested to Michael Schenker to change the name of the band to McCauley Schenker Group [MSG] when you came on board?
Robin McCauley: I was auditioning at Rudolf's [Schenker] studio, I was the last of 17 singers, I had previously turned down Michael [Schenker] four years prior when he came down to see me in my previous band Grand Prix He was with [drummer] Cozy Powell, [bassist] Chris Glen and [keyboardist] Andy Nye, they asked me to come in and rehearse with them, like with everything else timing is everything. When I got the call to come to the studio four years later, Rudolf and Klaus [Meine] and management were there and Michael says, 'Interesting that your last name starts with an 'M' and my first name starts with an 'M', I have decided that I'm calling this band McCauley Schenker Group. I was like, 'No, you can't do that. I don't feel comfortable doing that.' I thought that the idea was just crazy because M.S.G. was already a well established band and the logo was identifiable within the rock world. Michael said, 'You've got the gig and I get the name.' So that was that [laughs]. I was never up for it, I was never up for it, but Rudolf and management liked the idea. 30 years later we have included some of the songs from the McCauley Schenker era in Schenker Fest.
KNAC.com:: You wrote two of the M.S.G. hits, Gimmie Your Love [from Perfect Timing 1987] and Anytime [from Save Yourself 1989] which got airplay on MTV and got the band on the radio. Did you get any push back when you brought in these or other songs in, that might have been slightly uncharacteristically Schenker?
Robin McCauley: Well, the label and management were looking for radio play in America and they wanted to get videos played on MTV. When I became part of the band that was the first time that Michael got any of that. I think everyone was thrilled with the songs that I brought to the table because they helped to hammer away at getting airplay on radio and MTV. We needed to get the 'hit' video on MTV to get the good tours, but at the sametime there were the hardcore fans that would be like, 'this new singer has just destroyed everything that was MSG.' Years later I have to point out I didn't write the music, I wrote the melodies and the lyrics. Michael Schenker wrote the music [laughs].
Read more at KNAC.com.
Listen to Black Swan's Shake The World, here.