SINGER MIKE TRAMP DISCUSSES THE RISE AND FALL OF WHITE LION, SAYING, [GUITARIST] VITO [BRATTA] AND I HAD NO CONNECTION…EXCEPT THROUGH MUSIC"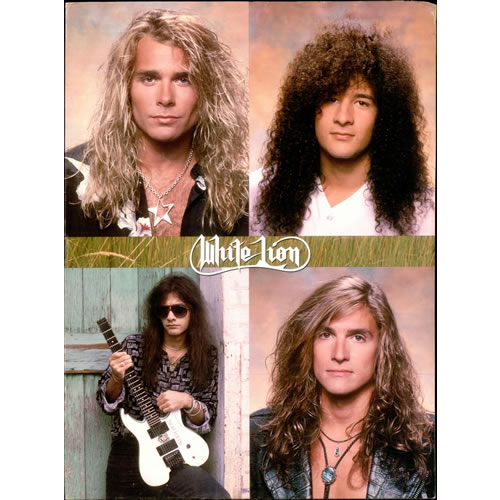 Paul Elliott of Classic Rock Magazine reports:
May 25th, 1988 was a day that Mike Tramp would remember for the rest of his life. White Lion, the New York-based rock band fronted by Danish singer Tramp, were beginning a three month tour as support act to AC/DC at Indianapolis' massive 15,000-capacity Market Square Arena.
White Lion were riding high. Their second album, Pride, had sold a million copies, and they'd been on the road for the best part of a year, opening for KISS – whose bassist/vocalist Gene Simmons had told Tramp he had "the coolest name in rock n'roll" – and then Aerosmith, whose singer Steven Tyler would greet Tramp each night by singing White Lion's breakthrough hit Wait.
But Tramp, an AC/DC fan, knew that this audience would be the toughest that White Lion had faced. He feared that AC/DC's fans might be hostile to a pretty Danish boy with big hair. And most of all, he worried how they would react if White Lion played their new single When The Children Cry, a gentle acoustic song harbouring a do-gooder message.
Minutes before they went on stage, the four members of White Lion made an important decision. As Tramp recalls, "We said, we have to be the band that we are." And what followed was the sweetest of victories. "When we went on," he says, "all 15,000 people were in their seats. And when we played When The Children Cry, thousands of lighters went up. It was a good f–king moment."
There would be more good moments for Mike Tramp and White Lion on that tour. When The Children Cry would reach number three on the US chart, a personal triumph for the singer who had written the song three years earlier as a struggling wannabe. And Tramp was ecstatic when AC/DC's Brian Johnson told him, "This is the first time we've seen a big amount of women in our audience!"
But the good times didn't last. In Tramp's words, "the rise of White Lion was like climbing a ladder with a rocket up your ass!" But at similar velocity came the band's decline. And although this resulted from a number of contributing factors (including record company politics), what ultimately destroyed White Lion was the very thing that made them great – the strange relationship between Mike Tramp and guitarist Vito Bratta.
As Tramp says now, "Vito and I had no connection whatsoever except through music. It's sad, but true."
It was in 1982 that Mike Tramp first met Vito Bratta. Tramp's Danish band Lion, having recently relocated to New York City, were playing second on the bill to Bratta's group Dreamer at the famous rock club L'Amour in Brooklyn. Backstage, Tramp was amazed when he watched Bratta warming up by playing a note perfect version of Eddie Van Halen's guitar show piece Eruption. "My jaw just dropped," Tramp says. "I thought, Holy s–t – we're 10 years behind!" And Tramp wasn't alone in thinking that he and Bratta would make a great team. "From that moment on," Tramp says "people started talking about Vito and I getting a band together."
At 21, Tramp was already a veteran of the music business. Born Michael Trempenau in Copenhagen on January 14th, 1961, he made his recording debut at 13 when he and his elder brother, billed as Dennis & Michael, cut a single for EMI. And at 15, Mike joined Danish teenybopper act Mabel after seeing them open for The Bay City Rollers in Copenhagen. Mabel represented Denmark in the Eurovision Song Contest in 1978 with the song Boom Boom (they finished 16th out of 20 entries, with just 13 points). But after the group moved to Spain, where they were also hugely popular, Tramp tired of the boy-band shtick. A fan of Slade and Sweet in the early 70s, he was now into AC/DC, Van Halen and the New Wave Of British Heavy Metal. He restyled Mabel as a hard rock band with a new and suitably macho name: Studs.
And in 1981 came a meeting with a hero that would change Tramp's life. "Van Halen came to Spain on the Fair Warning tour," he says. "And because we had the same record company, I got sent to pick them up at the airport. David Lee Roth comes out looking like f–king Goliath, and the first thing he says to me is, 'Got a joint?' I was with them for three days. And when I talked about Studs, Dave told me, 'You gotta go to the States. And man, if you're gonna make it in America you can't call yourselves Studs – it makes you sound like The Village People!'"
Tramp did exactly as Roth suggested. Within a year, he and his bandmates had sold everything they had to pay for flights to New York and, en route across the Atlantic, they changed the band's name to Lion. But within six months they ran out of cash, and soon after the L'Amour show with Dreamer, they were back home in Denmark. Only Tramp had the determination and the money – borrowed from his mother – to get back to New York. And when he arrived there in early 1983, the first call he made was to Vito Bratta.
The pair began writing songs and finding musicians for a new version of Lion. And right from the start, Tramp felt that he had the stronger work ethic.
"I was the engine that made Vito move," he says. "Vito lived with his parents on Staten Island, and he never lifted a finger to make any money. If he drove to my place in Queens, I'd have to give him $10 for gas."
But Tramp was absolutely certain that the music he and Bratta were writing had huge potential – the first song they composed together, Broken Heart, was a brilliant melodic hard rock anthem.
And he also enjoyed working in construction during the hot summer of '83. "I'd be on the sidewalk, mixing concrete," he says. "No shirt, blond hair, with a big ghetto blaster, listening to Def Leppard's Pyromania and all that great American rock n'roll. Life couldn't get any better!"
By the end of that year, Lion had a stable line-up featuring drummer Nicki Capozzi and former Angel bassist Felix Robinson. The band was managed by the co-owners of L'Amour – "Two Italian Americans, like The Sopranos," Tramp says. They also had a recording deal in place with German producer Peter Hauke, who would be paid for making the band's debut album, if and when they were signed to a label. And just before they travelled to Frankfurt to begin recording with Hauke, the band chose a new name.
"There was a band in New York called White Tiger," Tramp recalls, "so Vito said, 'Why don't we call ourselves White Lion?' I wanted something more original, but White Lion just stuck."
On the strength of this album, titled Fight To Survive, White Lion were promptly signed to major label Elektra. "It was a big money deal," Tramp says.
But the band's euphoria was short-lived. Tramp explains, "Two months after we signed to Elektra, our management told us, 'We got good news and we got bad news. The bad news is, Elektra has dropped you. The good news is, we get to keep the money.' We were devastated." Tramp believes that Elektra had a change of heart about White Lion because the label already had Mötley Crüe and Dokken. "I think the people at Elektra felt was too much similarity there," he says.
The result was that Fight To Survive was eventually released in 1985 by the Victor label in Japan, followed by a US release via tiny independent Grand Slamm. Reviews of the album in the European rock press were positive. And the band had been strengthened by the acquisition of a new drummer, Greg D'Angelo, and a new bassist, James Lomenzo, following a brief stint with future Black Sabbath bassist Dave 'The Beast' Spitz. But still no major labels were interested in White Lion.
The new-look band earned a little extra cash with an appearance in hit movie The Money Pit, produced by Steven Spielberg and starring Tom Hanks. And then, in late 1986, they accepted Peter Hauke's invitation to record a second album in Germany.
"We had to keep moving forward," Tramp says. "We already had the title for the album – Pride. And we had some great new songs, like Wait and Hungry. But something got lost in the recording. When we got back to New York and we played the finished album, we just knew it wasn't good enough. And at that point, we really didn't know what to do."
In the weeks that followed, the band's morale was at an all-time low. "We really thought that we were finished," Tramp admits. But when it seemed the breakthrough would never come, White Lion's luck changed. And their saviour was, of all things, another German producer.
Michael Wagener, an expat based in California, was enjoying a hot streak during the mid-80s as producer and mixer of hit albums for Mötley Crüe, Metallica, Dokken and German band Accept, for whom he'd played guitar in his teens. "Somehow," says Tramp, "Michael Wagener heard this unreleased White Lion music, and instantly he called our management and said he wanted to re-record the album in California."
At the same time, the band found another supporter in Jason Flom, an A&R man for Atlantic Records. Flom had seen White Lion at a rock club in Baltimore when they were opening for Mannequin, a band that Flom was interested in. According to Tramp, White Lion's managers got Flom so drunk that he didn't see Mannequin. And after the show, Flom made a verbal agreement to sign White Lion to Atlantic, even though he was, by Tramp's reckoning, "completely wasted".
In early 1987, White Lion decamped to LA to remake Pride with Wagener. "Michael was great for us," Tramp says. "He just let the band be the band, and he knew exactly what we wanted-something like the first Van Halen album or Journey's Escape, but in our own style."
Pride captured what Tramp calls "the 100 per cent purity of White Lion". And when the album was released in June 1987, Kerrang! reviewer Derek 'Del Boy' Oliver declared it a classic.
Pride would eventually sell over two million copies, with both Wait and When The Children Cry hitting the Top 10 in the US. And for Tramp, the latter song was especially important. "When The Children Cry wasn't Every Rose Has Its Thorn by Poison," he says. "This was the era of Ronald Reagan, and I was singing, 'No more presidents, and all the wars will end…' That was pretty gutsy." Moreover, this song, written immediately after Live Aid, was in part influenced by Tramp's childhood. "I was around five or six when my father left us," he explains. "My mom was left with three boys. So without a doubt my own story is in that song."
When The Children Cry, like El Salvador before it, proved that White Lion were that most unlikely of things – the thinking man's hair metal band. As Tramp says: "I had a pretty loud image that went against me in many ways. White Lion were the nice boys of rock n'roll. And much as we were affiliated with that hair metal scene, we found it very embarrassing to see women being degraded. I never wanted to engage in alcohol and drugs and that kind of lifestyle. I tried cocaine once or twice back in Spain, and it had nothing for me. And with White Lion, I was singing out of my range, so I had to live like a f–king monk. That's why I did not become Sebastian Bach."
What Tramp did become was a very rich man. He reveals, "At the end of the Pride tour in 1989, Vito and I, as the songwriters, were at that point of passing a million dollars each." Less than six years after he arrived in New York with just a few dollars in his pocket, Tramp had become the very embodiment of the American dream But even then, at the height of White Lion's success, Tramp and Bratta were already drifting apart.
Just two days after the Pride tour finished, the pair were at a motel in Palm Springs working on material for a third album. But after two weeks of writing, Bratta returned to New York and Tramp moved to LA. And when the band began recording with Michael Wagener at Amigo Studios in Hollywood, where they had cut Pride, Tramp immediately sensed how money was changing the band. "On Pride, the parking lot was full of dirty old rental cars," he says. "But now there were Corvettes and Harleys. The whole vibe was different. And outside of the studio, Vito and I were not spending any time together."
In addition, the band were receiving mixed messages about the album being made. Despite the success of When The Children Cry, two new songs with similar humanitarian themes – Little Fighter and Cry For Freedom – received a damning verdict when White Lion's management sought advice from John Kalodner, the A&R man who'd resurrected Aerosmith's career.
As Tramp recalls, "Kalodner told my manager, 'You better tell Mike that saving whales does not sell rock albums!'" And if the reaction from key players at Atlantic Records was positive, Tramp later discovered that he was being misled. "We played Cry For Freedom to Jason Flom and Doug Morris and they were comparing it to Led Zeppelin," Tramp says. "But many years later, we found out that Doug Morris had said to Jason Flom, 'Why are you letting them do this?'"
White Lion were also working to a tight deadline: a tour with Ozzy Osbourne was already booked, with a juicy fee of $25,000 a night. As a result, the third album, Big Game, was released in June 1989 when Tramp felt it "unfinished". Big Game shipped gold on its release, selling 500,000 copies. But after this strong start, sales quickly dropped off as the album's four singles all bombed.
"The record company didn't know what to do," Tramp says. "And we never had a discussion about it, because there wasn't much we could change." White Lion's career was in free-fall, and Tramp, by his own admission, was already isolating himself. "When we toured Big Game I had my own dressing room," he explains. "I was tired of the other guys. Or maybe just Vito."
White Lion mustered one more album, Mane Attraction. But by the time it was released in 1991, alternative rock was in the ascendancy. "The major impact came when MTV changed its concept," Tramp says. "In the 80s, MTV buttered our bread, but after Kurt Cobain wore his grandfather's sweater in the video for Smells Like Teen Spirit, there was no place on MTV for bands like White Lion and Mötley Crüe."
After White Lion toured Europe with Mr. Big and Tyketto, a long-running dispute over money led to James Lomenzo and Greg d'Angelo quitting the band – something that Tramp still regrets.
"The money was split 25 per cent equally on live performance, but also 25 per cent equal on expenses," Tramp explains. "So Vito and I, as the songwriters, were making all the money. James and Greg weren't asking for a lot," he sighs, "but the split happened."
With new bassist Tommy 'T-Bone' Caradonna and drummer Jimmy DeGrasso, White Lion embarked on a 16-date club tour in the US. But when the tour reached New York, the band's hometown, Tramp discovered that Atlantic Records had given up on White Lion.
"Nobody from the record company showed up at the gig," he says. "So the next day, I went to Atlantic. The secretary doesn't know who I am. I say, 'Can I speak to Doug Morris?' And she says, 'Oh, he's not available.' I said, 'Just let him know Sebastian [Bach] is here.' And a few minutes later, Doug Morris comes out and looks at me. I just turned around and walked out. I knew the song: there's a new kid in town."
When White Lion arrived in Boston for the final date of the tour, Tramp took Bratta aside and told him, "This is our last show." Bratta offered a one word reply: "Okay." As Tramp says now, "We never, ever talked about why it was so easy to break up the band. And the phone call never came from the record company or the managers or the merchandising company that had once given us a million dollars in advance. We had a great band. We had two songwriters that knew how to work together. But nobody fought for White Lion."
The story of White Lion ends as so many rock n'roll stories do – in a battle for the band's name. In the 21 years since White Lion broke up, Bratta's public profile has been virtually nonexistent, while Tramp has remained active, recording and touring as a solo artist and with the bands Freak Of Nature and Mike Tramp And The Rock N'Roll Circuz. Tramp has also continued to use the name of White Lion. He has toured, with varying band line-ups, as Tramp's White Lion and White Lion II. He recorded 12 classic White Lion songs on his solo album Remembering White Lion ("A silly album," he says, "but I was able to pocket $40,000 and live off that"). And in 2008 came a brand new White Lion album, Return Of The Pride, fronted by Tramp.
But in 2010, Tramp ceded ownership of the name White Lion to Bratta in an out-of-court settlement. Tramp says that he and Bratta came to this agreement following "a deep conversation". But he adds, more pragmatically, "I didn't want to spend all my money on f–king lawyers." And as Tramp sees it, what Bratta has achieved is a pyrrhic victory. "I'm proud of what Vito and I did with White Lion," he says, "and for that, I still love him. But the only thing Vito will take with him to his grave is the name White Lion. He would never have left f–king Staten Island – which he still lives on – if it hadn't been for a kid from Copenhagen with the energy of a rocket."
With White Lion, that kid from Copenhagen became the rock star he'd always dreamed of being. But now, aged 51, Mike Tramp says that White Lion is "a closed chapter". And having been through all the highs and lows that the rock n'life brings, he has a simpler agenda. "My sole goal in life now is to go out on the highest musical level that I'm capable of," he says. "I'm not gonna sell any more than 10,000 records worldwide, but I write the songs for me, and I'm very happy with my feet on the ground. I just want to go out with dignity."
Read more at Classic Rock Magazineteamrock.com/feature