PANTERA POST A MESSAGE REGARDING THE SHOOTING OF SINGER CHRISTINA GRIMMIE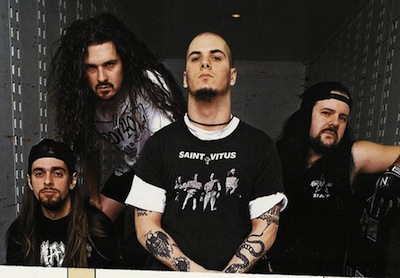 On Friday, Christina Grimmie, a former contestant on NBC's The Voice, was shot and killed following her performance in Orlando, Fla. on June 10th. The manner in which she was murdered struck a chord with Pantera, whose guitarist, "Dimebag" Darrell Abbott, was killed onstage, and the group has issued a statement in which they call out the concert industry for not doing more to prevent future tragedies.
"We are so sad and disappointed to hear that Christina Grimmie was gunned down the same way that Dimebag Darrell was," somebody speaking on behalf of the band wrote on their Facebook page. "After Dime's murder, we all prayed that our industry (i.e. club owners & promoters) would do whatever they needed to do to protect artists from gun wielding fanatics. Sadly, that's not the case and another rising star had to pay the consequences with her life. SOMETHING NEEDS TO CHANGE! RIP Christina & RIP Dime, Jeff Thompson, Erin Halk, and Nathan Bray."
Dimebag Darrell was killed on December 8th, 2004 shortly after his post-Pantera band, Damageplan, took the stage at the Alrosa Villa in Columbus, Ohio. Nathan Gale, a former U.S. Marine who was diagnosed with paranoid schizophrenia, shot Abbott, Thompson, Halk and Bray before police officer James Niggemeyer killed Gale.
The 22-year-old Grimmie, who finished in third place in the 2014 season of The Voice, was shot as she was signing autographs for fans after her concert at the Plaza Live. She was pronounced dead on June 11th. According to NBC News, Kevin James Loibl, a 27-year-old from St. Petersburg, Fla., was carrying two handguns, a large hunting knife and two magazines filled with ammunition when he approached her and opened fire. Loibl was tackled by Grimmie's brother, Marcus, at which point Loibl shot himself. His motives are unknown at this time.
NBC News adds that, while purses and backpacks are searched at the venue, which holds 1,355 people, there are no metal detectors. The Plaza Live has canceled all events until further notice.
additional source: ultimateclassicrock.com