SINGER JOHN CORABI DISCUSSES THE DEAD DAISIES AND NIKKI SIXX SAYING, "I HAVE NO IDEA WHY [HE] FEELS THAT I'M THE BIGGEST PIECE OF S–T TO ROAM THE EARTH?"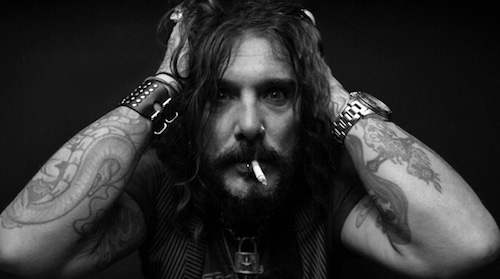 Ruben Mosqueda of Sleaze Roxx spoke with singer John Corabi. Excerpts from the interview appear below.
Sleaze Roxx: You've been in The Dead Daisies for over a year now. How did you get approached about fronting the band? I know initially you did a show in Cuba in 2015.
John Corabi: I had just gotten off the road in February [2015] and I travelled from Toronto, Canada to Miami [Florida] to meet the guys. We then travelled to Cuba and we rehearsed immediately after we arrived. We put two shows together and we did a little bit of recording while there. I kind of feel like it was an audition. I feel that they wanted to know what I was like as a person. I also think they [The Dead Daisies] wanted to see how I handled an audience. After we came back to the U.S., I got a call at my home in Nashville [Tennessee, USA]. The band wanted to know if I was interested in doing a record. Next thing you know, I'm in Australia.
Sleaze Roxx: When did you know that Dizzy [Reed] and Richard [Fortus] would depart The Dead Daisies?
John Corabi: It was after the KISS Kruise in October that we found out that they were going back to Guns N' Roses for the huge tour. It was at that point that Richard suggested that we get Doug Aldrich. We all knew Doug so we gave him a call. He was into it and he immediately started stockpiling ideas and riffs that he had for the writing sessions. I remember that I took my wife on a vacation at the first of the year and by the end of January [2016], we were writing the next record. It wasn't that different than the last record even though I'd never written with Doug. We basically wrote, recorded, mixed and mastered the new record Make Some Noise [out August 5th] in 35 days. Everything we do happens really quick.
[Dana's note: To listen to the Dead Daisies new single, Long Way To Go,
click here
.
Sleaze Roxx: John, I remember the first time I heard you. It was on Much Music's Power 30 when they played the music video for Believe in Me. I'm a huge fan of your work with The Scream, Union, the acoustic record, The Dead Daisies and of course the Motley record.
John Corabi: You know a lot of the fans come up to me and say "Dude, I'm a huge fan! What have you been doing since Motley?" [laughs] I'm sitting there thinking "Are you serious?!"
Sleaze Roxx: I get it. I've interviewed Eddie Trunk who you know. This seems to come up in our conversations and comes up weekly on his radio show when some 'fan' calls in asking "Whatever happened to said band?"
John Corabi: Absolutely! [laughs]
Sleaze Roxx: Last thing, for years Nikki Sixx said nothing but complimentary things about the Motley Crue '94 album. Seems like somewhere along, the way his feelings changed. He's done this before when at one point he asked fans to burn the Theatre Of Pain album. You think he really feels that way about the album you worked on with the band or is he simply doing it to stir up some controversy?
John Corabi: The the life of me, I have no idea. It's funny, I was hanging out with Vince. We did a festival together called "Farm Rock" and we were talking. I was like "Vince, what the f–k is up Nikki's ass right now? 22 years later, he decides that it's a 'very unfocused record', there's no choruses and John Corabi couldn't write and he had to do everything?! Where does that come from Vince?!" He laughed. I think he wanted to say something but he came back with "Dude, you know Nikki. Whatever, f-k it!" If my phone didn't start blowing up with calls and texts regarding that comment, I would have never known it. I am so far removed from that record. Let me be clear. I love that record. I'm very proud of that record. I'm good with Tommy [Lee]. I'm good with Mick [Mars] and I'm good with Vince [Neil]. I have no idea why Nikki feels that I'm the biggest piece of shit to roam the earth?
Sleaze Roxx: Thank you John and we didn't even get to touch on the work you've done with Mick Mars for his solo album.
John Corabi: Yeah. I did those two tracks that he posted snippets of online. I'd love to help Mick in any way possible as long as I can give him 100% attention. Right now, my schedule is so full that I haven't been able to do that. So those two songs are all I have contributed to the album.
[Dana's note: To read more about Corabi's work with Mick Mars, please
go here
.
Read more at Sleaze Roxx.
source: sleazeroxx.com