FRAGILE MORTALS FEATURING FORMER MEMBERS OF RUN DMC AND EXODUS TO RELEASE DEBUT SINGLES "FIRED UP" AND "SUICIDE"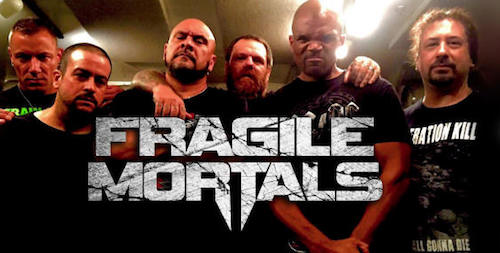 Fragile Mortals, the new band that combines hip-hop legend Darryl "DMC" McDaniels (Run DMC) with metal group Generation Kill featuring vocalist Rob Dukes (ex-Exodus) and bassist Rob Moschetti (ex-Pro-Pain, M.O.D.) will release their debut single Fired Up on July 4th, followed by the single Suicide on July 5th via Bumblefoot Music, the record label of artist/producer Ron "Bumblefoot" Thal (Art of Anarchy, ex- Guns N' Roses), who also produced and added additional guitar solos to the tracks.
Fired Up is a foot-stomping, fist-in-your-face anthem, sort of like a MACK truck – crashing into a packed football stadium. Says DMC, "Fired Up is a sports inspired attitude about giving all you got in this "game of life." And like my verse says, you must do it without cheating!"
And while the message of Fired Up is pretty straightforward, Suicide tackles darker topics, that according to DMC hits closer to home.
"Suicide is really personal to me because I was fighting depression, so I know what individuals, young and old, go through. People will always tell you that you shouldn't feel the way you feel. Easier said than done!" DMC adds, "I discovered the first step to healing is be truthful to yourself about how you're feeling, then look at WHO and WHAT circumstances are causing these feelings, then deal with those to remove those from your life. Me and Dukes wrote these lyrics no holds barred because that's how we, and a lot of others felt."
Suicide will also be featured in the audio-version of DMC's book of memoirs Ten Ways Not To Commit Suicide, also to be released July 5th worldwide.
Both songs come from the band's upcoming full-length release The Dark Project, set to be released later in 2016. Stemming from a chance meeting between Dukes and DMC, an initial one track collaboration for a DMC solo album turned into a full-on force, as Fragile Mortals was born. The band then recruited the ear of Ron "Bumblefoot" Thal as producer, and their combined creative vision has allowed the band to grow further than expected. Lending the occasional guitar riff and solo to the tracks, Ron's contributions earned him the title of unofficial seventh member.
Addressing issues ranging from suicide, drug abuse, prostitution, life and death, and racism, The Dark Project also offers a glimmer of hope and light at the end of a gritty tunnel, exposing the darker side of humanity without glorifying it in any way.
Fragile Mortals offers the listener an intellectual look into real world issues, as the music takes you on a journey, serving as the soundtrack to this all too real story.