SINGER/BASSIST GLENN HUGHES FURTHER EXPLAINS HIS RELATIONSHIP WITH EDDIE VAN HALEN, SAYING "WE WERE GOOD FRIENDS"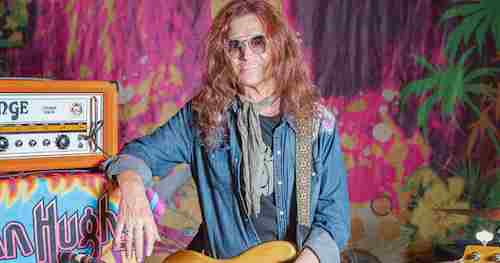 Iconic singer, and bassist, Glenn Hughes was a recent guest on Eddie's Sirius/XM show, Trunk Nation With Eddie Trunk, where he expounded on the recent news, that was once considered as a replacement for David Lee Roth in Van Halen.
Hughes told Eddie (as per blabbermouth.net), "So the story is I was at Eddie's house in the early '90s. And if I may say so, Eddie was newly sober at that point. And we had a conversation about stuff from the '80s. Eddie's manager, Noel Monk, was my tour manager in Trapeze back in the early '70s. So, Eddie said they were thinking about me prior to asking Sammy [Hagar] to come in. But the thing that stopped it was I wasn't the man I am today in the mid-'80s, as you know; we all know that now. So he thought maybe it would have been a good idea, but would Glenn be the right guy? Was he steady to do that? And they got Sammy in. So, we'll never know. But it was an honor for Eddie to think that, you know, he would invite me to at least come down and have a sing. So, yeah, it would have been very, very interesting. But Eddie was very close, and I miss him dearly."
He continued saying that Van Halen was a "big" fan of Hughes' pre-Deep Purple band Trapeze. "Keepin' Time was a Van Halen cover from the band," Hughes said. "So, yeah, Eddie was a Burn [Deep Purple] fan.
Hughes also recalled his first encounter with the guitarist, which he said took place four and a half decades ago. "1978 Thanksgiving, I found myself in Dallas, Texas," he said. "And I went to see Black Sabbath and there was an unknown band on the bill called Van Halen. I had not heard of them. They maybe had made a record. So, I went down to the show early and I stood at the side of the stage, and lo and behold, I see this incredible band and this amazing guitar player. And, of course, their manager was my ex-tour manager. When they came off the stage, Noel Monk introduced me to the guys, and Eddie took me into a room and he had his guitar and he played some stuff to me. And ever since that day, Thanksgiving in '78, Eddie and I became very close. So throughout the years we'd get together often. He was over my house a few times, and we were good friends."
In other Hughes news, he recently announced his Glenn Hughes Performs The 50th Anniversary of Deep Purple's BURN Live, which begins on August 16th in Vineland, NJ and winds downs on September 23rd in Clearwater, Florida. Yngwie Malmsteen will be joining Glenn on most of the scheduled dates. Read more details, and view the entire tour itinerary, here.