SHARON OSBOURNE DISCUSSES HER VOLATILE RELATIONSHIP WITH HER HUSBAND, OZZY, SAYING "OUR FIGHTS WERE LEGENDARY"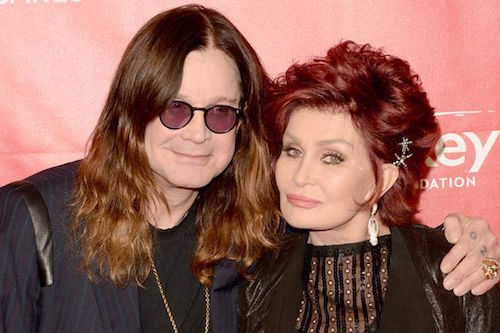 Ozzy Osbourne's wife/manager, Sharon Osbourne, has opened up to the Daily Mail to recount the couple's tumultuous relationship.
…An upcoming biopic about [the couple] will put their tumultuous marriage on full display. "We would beat the s**t out of each other," the 68-year-old said, adding that the film will actually tell a love story.
"Our fights were, legendary,' Osbourne revealed to DailyMailTV. 'We would beat the s**t out of each other. It stopped, must be, 20 years ago, but we had a good run."…
…The couple is working together on turning their early life together into a biopic that Sharon hopes will begin filming this spring.
'It's a movie about Ozzy's and my life, how we came together in the early days and our volatile relationship,' she said. "All the fights, all the makeups, all the fights, all the arrests, all the everything. And it's a love story."
"People are going to watch it go, 'This isn't allowed. They shouldn't behave that way and put it on film'," Sharon said. "But [we're] only talking the truth. Some people have volatile relationships and ours was very volatile."…
…Their often aggressive, no holds barred approach to marriage extended into their professional lives. Sharon has served as Ozzy's longtime manager and she admitted to throwing a few punches over the years in the course of her career.
"I've hit guys in business and it's like … sorry. That's the way I was brought up,' she casually quipped. 'I famously hit a promoter – I kneed him in the crotch and then I head butted him.'
The issue, as always, was over money and Sharon laughed recalling the ordeal, explaining that the promoter had been trying to stiff her.
'I got the money,' she proudly added.
Sharon went on to reveal that violence in the home was what she had been used to and really didn't know any other way. She described her father Don [Arden] as "notoriously violent" and while she and Ozzy had a history of brawls, over time things settled down…
…Ozzy is scheduled for a major surgery soon to help correct neck and spine issues following a 2019 fall. Those injuries have kept the musician from performing and the…singer is dying to get back in front of a crowd.
"The thing I'm most excited about is my hubby getting back on stage," Sharon gushed. "That's what I pray for."
Less than a year after Ozzy's fall, the family revealed publicly that the Grammy winner had been diagnosed with Parkinson's disease.
"It was like that one after the other and it's like, 'woah, just a minute,' you know?" Sharon reflected. "It breaks your heart that he wants to get back. He misses his friends, his musicians, they're his partners. He misses that life."
She added, "But with his Parkinson's, he's fine. He's fine, he's got it under control."
Read more at the Daily Mail.