SECOND ANNUAL "BOWL 4 RONNIE" BOWLING PARTY HOSTED BY EDDIE TRUNK, SET FOR NOVEMBER 4TH PINZ BOWLING CENTER IN STUDIO CITY, CALIFORNIA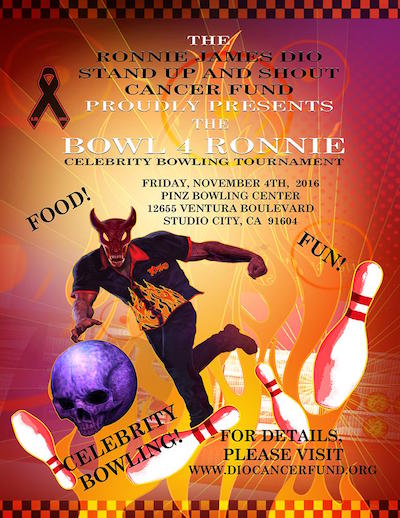 The 2nd Annual Bowl 4 Ronnie Bowling Party, benefiting the Ronnie James Dio Stand Up and Shout Cancer Fund, will take place on Friday, November 4th at the Pinz Bowling Center in Studio City, California. The event, hosted by VH-1's Eddie Trunk, will include a celebrity bowling tournament, a raffle and a special live auction.
The event kicks off at 6:30PM with open bowling and a VIP pre-party for lane sponsors, celebrities and their guests. Bowl 4 Ronnie participants can anticipate an evening of fun, food, and, of course, bowling with rockers and celebrities competing for trophies in the name of raising funds and awareness for the Dio Cancer Fund.
In addition to emceeing duties, Eddie Trunk, host on Sirius XM's Volume and VH-1's That Metal Show, will captain his own bowling team with guitarist John 5 (Rob Zombie) and drummer Steven Adler (Guns N' Roses) among those joining him in the Celebrity Bowling competition. Other musicians expected to attend include Bjorn Englen (Dio Disciples/Tony MacAlpine/ Yngwie Malmsteen), Chris Broderick (Megadeth/Act of Defiance), Eddie Money, Chris Hager (Rough Cutt), Marty O'Brien (Lita Ford), Mick Sweda (Bullet Boys), Tim "Ripper" Owens (Dio Disciples/Judas Priest), David "Rock" Feinstein (Elf/The Rods), Jeff Scott Soto (Kryst The Conqueror/Yngwie Malmsteen), Chas West (Lynch Mob/Foreigner/ Bonham), Joe Retta (Dio Disciples/ Sweet), Marc Ferrari (Keel), Robert Sarzo (Hurricane), Rowan Robertson (Dio,/Bang Tango/DC4), Rudy Sarzo (Dio/Quiet Riot/Whitesnake), Scott Warren (Dio /Warrant), Craig Goldy and Simon Wright (Dio/AC/DC), Howie Simon (Nelson, Alcatraz), singer Ann Boleyn (Hellion), singer Sonia Harley, Joey Vera (Armored Saint), Roy Mayorga (Stone Sour), Christian Martucci (Stone Sour), Mike Spencer (Flotsam and Jetsam), guitarist Monte Pittman and actor/ musician Sean McNabb (Lynch Mob/Quiet Riot/Dokken), with more names still being added.
There will a live auction that will include music memorabilia and a 6-string Jackson guitar donated by Chris Broderick of Act of Defiance, who will be in attendance, stage played while on tour with Megadeth in 2012 (as well as autographed photos of Chris playing that guitar). Among the raffle prizes will be a specially-designed bowling ball and a bowling pin featuring the Bowl 4 Ronnie artwork, each accompanied by a Bowling Party donated by host venue Pinz Bowling Center.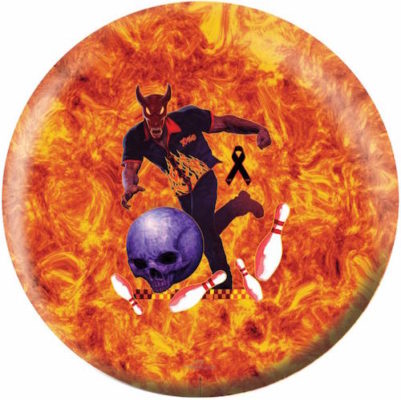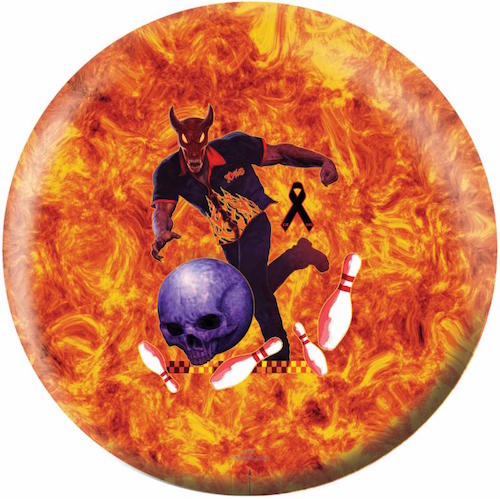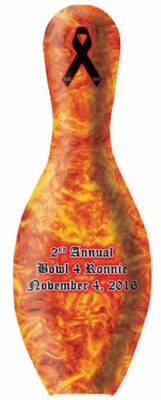 100% of the net proceeds from the Bowl 4 Ronnie will go to the Dio Cancer Fund. Most recently, the Dio Cancer Fund presented a check for $25,000 to Dr. David Wong, Director of the Dental Research Institute at the University of California Los Angeles, to further his research into saliva testing for the early detection of cancer. Dr. Wong believes this simple, non-invasive test will be available for medical use within the next three years.
Individual tickets and lane sponsorships are now on sale, and participants are encouraged to gather friends, family and co-workers for the ultimate bowling team. The Pinz Bowling Center is located at 12655 Ventura Blvd in Studio City, California.
To purchase tickets for this event, please visit diocancerfund.org/bowlforronnie. For more information about the strong>Ronnie James Dio Stand Up and Shout Cancer Fund, go to diocancerfund.org.