SAXON'S BIFF BYFORD DISCUSSES MUSIC, SONGWRITING AND HIS FAVORITE SAXON ALBUM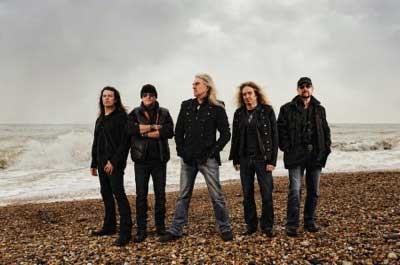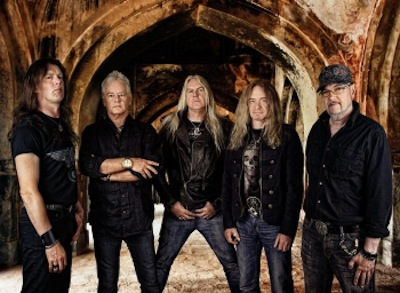 Greg Prato of Songfacts spoke with Saxon frontman Biff Byford. Portions of the interview appear below.
Songfacts: Let's start off by talking about the new Saxon album, Unplugged and Strung Up. How did the idea come to do this album?
Biff Byford: Well, it's a mixture of different projects that we were doing. I had the idea to do an unplugged album, and then we moved off that to more general projects. I just thought it would be a good idea to put all our projects together on one album and try to make it interesting for the fans. I think it's a good package.
Songfacts: Looking back, how would you say that you write your best songs?
Biff: I've usually come in with a couple of ideas. We all play instruments, so we can all write. We have a lot of ideas, and then we'll just bash them around a bit and I'll usually take them away and arrange them and put down some melodies, maybe write some lyrics, and we'll take it from there.
We don't really consider the guitar riff a song, if you know what I mean. We have to work a lot harder than that. So it's just basically bouncing around from different members, I suppose.
Songfacts: Something that I've always felt about Saxon is that the band is very underrated when it comes to the amount of great guitar riffs, especially songs like Strong Arm of the Law, Wheels of Steel, and Princess of the Night. Were those parts entirely written by Paul [Quinn] and Graham [Oliver] back in the day, or did you ever have a hand in coming up with those melodies for those riffs?
Biff: I wrote some of the stuff in 747. I wrote a few of the riffs. We all play, you know. I think the Strong Arm of the Law riff is Graham Oliver's originally. But the thing is, when I'm writing melodies, we sometimes change the guitar part to put on a melody. So I suppose it's a bit more of a group thing. We tend to split the songs into 50/50 melody, lyrics, and usually the melody goes with the lyrics with this band. So that's usually how we work.
Songfacts: What do you remember about the writing and recording of the song Princess of the Night?
Biff: Well, Princess of the Night, I remember exactly. I had two titles. I had a title of Wheels of Steel and I had a title Princess of the Night. And I didn't use Princess of the Night on the first two albums. But Paul Quinn came up with a riff and it sort of fit my lyrics. So that song was written very quickly, very quickly indeed. I already had the lyrics and the riff went together so simply, really smooth.
Songfacts: And you just mentioned the song Wheels of Steel.
Biff: I was heavily into AC/DC's first album, and a few of their bootleg things that we found. I turned the band on to AC/DC. And I think although that track doesn't sound like AC/DC, it's a bit more rugged, I suppose. Wheels of Steel has definitely got an AC/DC influence in that.
Songfacts: What about the song Strong Arm of the Law?
Biff: Strong Arm of the Law, I think that was Graham's riff, the verse riff. We were stopped by the police on numerous occasions when we had this huge American car, and that's basically what it's about. It's a story about the police stopping us on London Bridge in London and it stuck in my head. So I wrote some lyrics about it when I got the opportunity.
Songfacts: You mentioned coming to America. What were your initial impressions of America when Saxon first played there?
Biff: The very first tour we did was with Rush in the '80s. Which was great, since we're huge Rush fans. It was a fantastic place to come. It still is, actually.
We were very busy in them days. We were playing with Rush, we were doing the Whiskey A Go Go and we were all over the place, really. We were doing gigs on the West Coast in America. We were flying backwards and forwards all over the place. So it was quite an exciting time, those early '80s.
Songfacts: From a songwriting perspective, what would you say is your favorite Saxon album and why?
Biff: It's always got to be the last one, hasn't it? I think Sacrifice is a great album. I'll leave you to that, really. [Laughing].
Read more at Songfacts.
source: songfacts.com