RONNIE JAMES DIO STAND UP AND SHOUT CANCER FUND PRESENTS $100K TO THE T. J. MARTELL FOUNDATION TO AID GASTRIC CANCER RESEARCH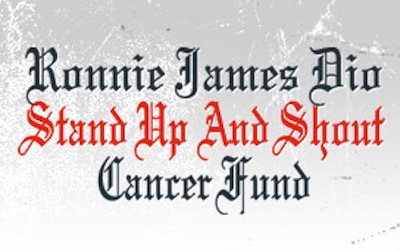 The Ronnie James Dio Stand Up and Shout Cancer Fund, the charity founded in memory of the late rock singer, recently presented the T.J. Martell Foundation for Leukemia, Cancer and AIDS Research with a check for $100,000, bringing the organization's total gift to $400,000. These monies are earmarked for gastric cancer research at the Vanderbilt-Ingram Cancer Center in Nashville, TN. Ronnie James Dio, one of rock's all-time great vocalists, died four years ago of gastric cancer, and the charity founded in his memory is committed to raising money and awareness in hope of one day finding a cure for this dreaded disease.
The presentation of the donation was made at the T. J. Martell Foundation's 39th Annual Honors Gala held at Cipriani in New York by Dr. Sandeep Kapoor, Dio Cancer Fund Medical Director (and co-founder with Ronnie James Dio's widow Wendy Dio). Speaking at the event, he said, "Cancer is a disgusting disease that needlessly robs us of loved ones and family members. We must find better ways to screen patients for cancer, and it is vital that we motivate people to get themselves checked and know the risks and preventative measures for all forms of cancer. Our fund's mission is to stop cancer before it starts."
Since its inception in 2010, The Dio Cancer Fund has raised funds via direct donations, merchandise sales and varied fund-raising events, among them a Celebrity Guitar Auction and an annual Awards Gala, this year held to coincide with the release of This Is Your Life an album that pays tribute to Ronnie James Dio. This Is Your Life includes contributions by such metal heavyweights as Metallica, Motörhead, Anthrax, Halestorm, Rob Halford, Glenn Hughes, Scorpions, Corey Taylor and Tenacious D. among many others, all performing Dio songs. The album, released in April by Rhino, has already sold over 100,000 units worldwide, with proceeds from sales benefiting the Dio Cancer Fund.
Plans are underway for a series of events in Los Angeles next May to commemorate the 5th anniversary of Dio's passing. Says Wendy Dio, "Ronnie would be so very proud of all of these efforts made in his name. Early detection saves lives, and one day, we will find a cure for this terrible disease."
As the singer of some of the most iconic bands of the hard rock/heavy metal genre – Rainbow, Black Sabbath/Heaven and Hell, and Dio – Ronnie James Dio's voice can be heard on such all-time classics as Man on the Silver Mountain, Long Live Rock n' Roll, Neon Knights, Heaven and Hell, Rainbow in the Dark, Holy Diver, and The Last in Line, among countless others. The Ronnie James Dio Stand Up and Shout Cancer Fund is a privately funded 501(c)(3) charity organization dedicated to cancer prevention, research and education. It has already raised in excess $750,000.