"ROCK ON THE RANGE" BAND PERFORMANCE TIMES ANNOUNCED FOR TENTH ANNUAL FESTIVAL MAY 20TH, 21ST & 22ND AT MAPFRE STADIUM IN COLUMBUS, OH, TICKETS SOLD OUT IN ADVANCE FOR FOURTH CONSECUTIVE YEAR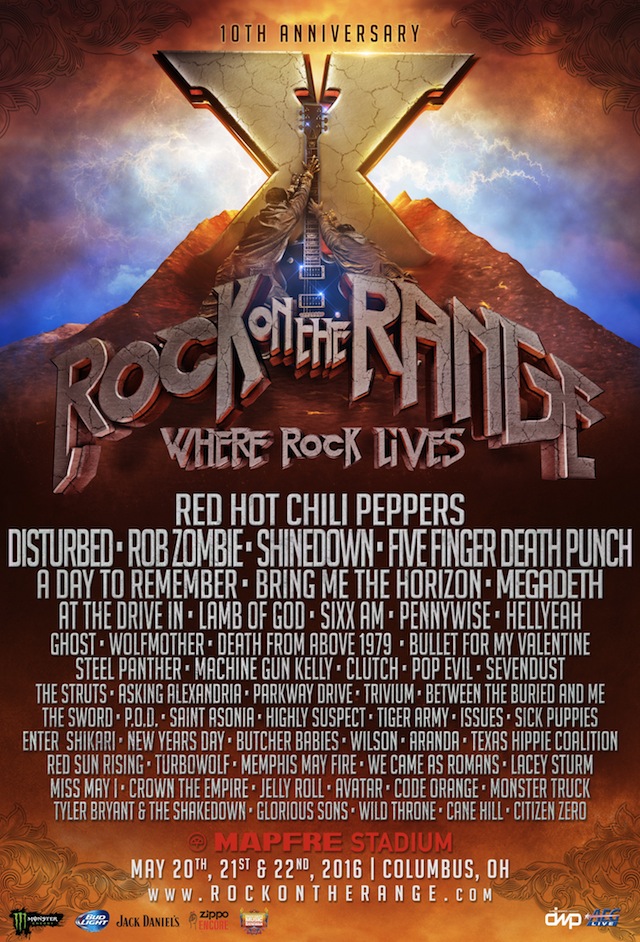 Band performance times have been announced for the tenth edition of Rock On The Range, May 20th, 21st & 22nd at MAPFRE Stadium in Columbus, OH. Red Hot Chili Peppers, hard rock titans Disturbed (who have returned after a 4-year hiatus), and rock icon/filmmaker Rob Zombie top an incredible Rock On The Range 2016 music lineup that's packed with rock royalty such as Deftones, Shinedown, Five Finger Death Punch, Bring Me The Horizon, A Day To Remember, Megadeth, At The Drive-In, Lamb Of God, Sixx:A.M., Hellyeah, Pennywise and more, along with rock's hottest developing artists.
Rock On The Range sets the standard for American rock festivals. In addition to three stages of music, Rock On The Range features more than a dozen of rock's favorite comedians in the ROTR Rolling Rock Comedy Tent – including Grammy-nominated Jay Mohr, Big Jay Oakerson, Nate Bargatze, Craig Gass, and Bethany Dwyer, plus a special Saturday night That Metal Show Live (based on the VH1 Classic show) with Eddie Trunk, Don Jamieson and Jim Florentine. Other onsite experiences include The Music Experience, a Craft Beer Village featuring top breweries from the region, the Rock On The Range 10th Anniversary Photo Retrospective, and new art installations.
In honor of Rock On The Range's milestone anniversary in the city of Columbus, the festival received awards of recognition from both Columbus Mayor Andrew J. Ginther and the City Council, as well as a resolution from the Franklin County Board of County Commissioners. These commendations acknowledge the over $140 million in economic impact the festival has contributed to the city over its 10 year existence. Says Danny Hayes, CEO of Danny Wimmer Presents, co-producers of Rock On The Range, "Columbus has been an amazing home to America's largest rock festival for the past ten years. We look forward to continuing this great partnership with the city."
The current Rock On The Range performance schedule is as follows (subject to change):
Friday, May 20th:
Monster Main Stage:
1:05 PM Sick Puppies
2:15 PM Sevendust
3:30 PM Bullet For My Valentine
4:50 PM Sixx:A.M
6:15 PM A Day To Remember
7:55 PM Shinedown
9:35 PM Disturbed
Stage Two:
11:45 AM Monster Truck
12:30 PM Avatar
1:40 PM Enter Shikari
2:55 PM Trivium
4:15 PM Asking Alexandria
5:40 PM Machine Gun Kelly
7:10 PM Megadeth
Stage Three:
11:45 AM Cane Hill
12:30 PM We Came As Romans
1:40 PM Andrew Watt
2:55 PM Miss May I
4:15 PM Memphis May Fire
5:40 PM Butcher Babies
Rolling Rock Comedy Tent:
6:15 PM Adrian Cosby
6:30 PM Jay Snyder
6:45 PM Mike Baldwin
7:00 PM Bethany Dwyer
7:20 PM Jay Mohr
Saturday, May 21st:
Monster Main Stage:
1:10 PM P.O.D.
2:20 PM Saint Asonia
3:35 PM Pop Evil
4:55 PM Steel Panther
6:15 PM Hellyeah
8:05 PM Five Finger Death Punch
9:45 PM Rob Zombie
Stage Two:
11:50 AM Lacey Sturm
12:35 PM Aranda
1:45 PM Texas Hippie Coalition
3:00 PM Issues
4:20 PM Parkway Drive
5:40 PM Ghost
7:20 PM Lamb Of God
Stage Three:
11:50 AM Citizen Zero
12:35 PM Jelly Roll
1:45 PM Wilson
3:00 PM New Years Day
4:20 PM Crown The Empire
5:40 PM Clutch
Rolling Rock Comedy Tent:
6:15 PM Madison Malloy
6:30 PM Craig Gass
7:00 PM That Metal Show Live with Eddie Trunk, Don Jamieson and Jim Florentine
Sunday, May 22nd:
Main Stage:
1:05 PM Highly Suspect
2:15 PM The Struts
3:25 PM Death From Above 1979
4:45 PM Wolfmother
6:10 PM Bring Me The Horizon
7:50 PM Deftness
9:20 PM Red Hot Chili Peppers
Stage Two::
11:45 AM BOTB winner TBA
12:30 PM The Glorious Sons
1:40 PM Hands Like Houses
2:50 PM Red Sun Rising
4:10 PM Anti-Flag
7:05 PM At The Drive-In
Stage Three:
11:45 AM Silver Snakes
12:30 PM Code Orange
1:40 PM Wild Throne
2:50 PM The Shrine
4:10 PM The Sword
5:35 PM Between The Buried & Me
Rolling Rock Comedy Tent:
6:25 PM Chad Zumock
6:40 PM Jay Armstrong
6:55 PM Bill Squire
7:10 PM Nate Bargatze
7:30 PM Big Jay Oakerson
Doors open at 11:00 AM each day.
Tickets for Rock On The Range 2016 sold out more than two months in advance, marking the fourth consecutive year that tickets sold out in advance for the largest and most acclaimed rock festival in the United States. A monumental 120,000 "Rangers" from all 50 states and around the globe were in attendance over the three days of the 2015 festival.
Download the Rock On The Range mobile app (available for FREE via iTunes and Google Play) for festival information and band performance times.
Rock On The Range on the web:
RockOnTheRange.com
facebook.com/rockontherange
twitter.com/rockontherange