AC/DC FRONTMAN BRIAN JOHNSON TO MEET WITH CREATOR OF SPECIAL EAR DEVICE TO TRY AND HELP HIM GET BACK TO PERFORMING LIVE SHOWS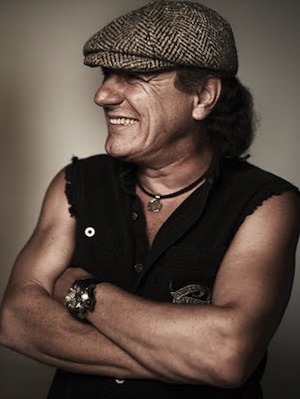 Stephen Ambrose, an expert in the field of audio and the founder of Asius Technologies who offered to help Brian Johnson return to the stage, says he will meet the AC/DC singer next week, reports blabbermouth.net.
Ambrose, who invented in-ear monitors, an advanced earbud used by professional musicians on stages around the world, released a video message last week in which he expressed hope that Johnson would consider utilizing his new patented in-ear technology that safely delivers a louder, more spacious and richer sound while minimizing the risk of hearing damage.
Now Ambrose says he will meet with Johnson on May 17th to discuss the situation. He says, "Due to everyone's tremendous support, Brian and I spoke yesterday. What a gracious man. He and his wife invited me to visit them next week.
If anyone deserves to benefit from my research, it's Brian, who has been giving incomparable performances for years despite increasing hearing loss.
I'm going to do my utmost to see if our new hearing breakthroughs can help him, and If I am at all successful, I'm sure Brian will let everyone know; he really cares about people and would like to help.
I am truly humbled and honored to meet this man, and I wish to sincerely thank everyone who helped. Fingers crossed; please pray for our success next week."
Ambrose created the ADEL (Ambrose Diaphonic Ear Lens) technology to solve the 77% increase in hearing loss recently attributed to all personal listening devices. By utilizing a revolutionary second ear drum to take the pounding, ADEL technology absorbs the harmful pneumatic sound pressures caused by all personal listening devices and provides a much safer and higher fidelity listening experience for everyone. Formal studies conducted at Vanderbilt Medical Center confirmed that personal listening devices modified with ADEL technology sound louder at lower volumes than anything else on the market. ADEL delivers sound the way it was always meant to be heard — bass sounds deeper, midrange is clearer and highs sound richer than ever.
Johnson issued a statement on April 19th in which he detailed the hearing problems that forced him to stop touring. While he promised to continue recording, he couldn't say whether he would ever perform onstage with AC/DC again.
Looking forward, he said, "My entire focus is to continue medical treatment to improve my hearing. I am hoping that in time my hearing will improve and allow me to return to live concert performances. While the outcome is uncertain, my attitude is optimistic."
source: blabbermouth.net