EDDIE TRUNK DISCUSSES HIS NEW TV PROJECTS, HIS FORTHCOMING AUTOBIOGRAPHY AND MUSICIAN TWITTER BATTLES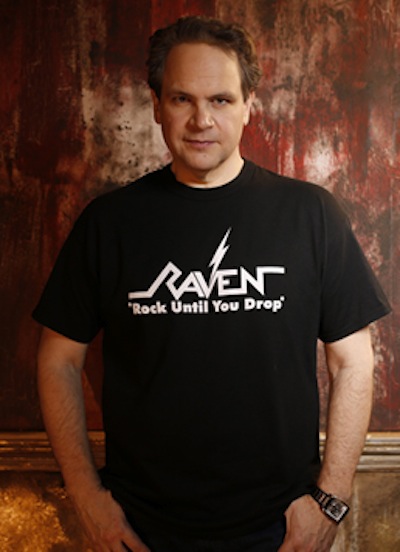 Ruben Mosqueda of Sleaze Roxx spoke with our very own Eddie Trunk. Highlights from the interview appear below.
Sleaze Roxx: You're working with AXS. You'll be part of Reel To Real which will be airing a number of documentaries and you'll be adding some commentary within the airing. Is that accurate?
Eddie Trunk: That's 100% accurate. In fact, I have been getting the word out to people of exactly this. There's people who say "Eddie you have a new show on AXS and I'm switching cable providers!" I appreciate the sentiment, but the truth of the matter is that I'm just hosting the documentary series called as you stated Reel To Real.
AXS commissioned about 20 documentaries of all genres — anything from hard rock to classical piano. I wrote the scripts for all the movies. I tell the viewer what the movie is all about. I then come on again toward the middle of the movie and give the viewer some information. I then come in toward the end of the movie and thank the viewer for watching and in some cases, I give updated information. Some of the movies are over 10 years old.
It's really great working with these guys. I worked with them on a few things when they were still called HD Net. I wanted to work with them but since I was under contract with VH-1 Classic, I couldn't do it but when it was announced that That Metal Show wasn't going to continue (on VH-1 Classic), AXS approached me about contracting with them to do this series. I understand that AXS is running the promos right now. I can't even see it because my cable provider doesn't carry AXS [laughs]!
Sleaze Roxx: So you wrote all the scripts for the documentaries?
Eddie Trunk: So, for 12 of the 20, I wrote my own copy. AXS wanted my own words. I'll give you an example. One of the films is Jason Becker's 'Not Dead Yet.' I reached out to Jason and asked him if there was anything that he wanted to say in terms of an update. Jason sent a nice note that he wanted me to read for the viewers. Then there's the film about the murder of Dave Navarro's mother. Again, I reached out and spoke with Dave and asked if he's like to say anything to the audience about the film. I'm a huge documentary fan. I'm an even bigger fan of music documentaries. There were some that I had viewed before but then there are films like the Navarro one that I had no knowledge of. There's one about a classical piano player which I didn't know existed. While I'm not a classical piano fan, I found the story very interesting. It's a very cool project to be a part of.
Sleaze Roxx: Tell us about the pilot that you shot recently and the progress with that?
Eddie Trunk: I got the call from a guy that I've known for a very long time when he heard about the cancellation of That Metal Show. He's a producer by the name of Don Magni who has stuff that's been on MTV, VH-1 and public television. He said "I'm a big fan and I want to help you in any way possible." Don basically lent me his staff and his facility and resources to shoot this pilot. We shot the pilot at Iridium which as you know is Les Paul's club and it's wired for sound and performance.
I've always wanted to do something similar to The Actor's Studio but for music, in fact, that was the original concept for The Metal Show but it evolved into what you saw on TV. I went back to that idea with this pilot…I called my friend of 30 years — Ace Frehley — who was in town to promote his latest album. He loved the idea. I should have the final edit of the show any minute or by the end of the week. Then it will go to my agent who will shop it to various outlets. He's very confident that someone will pick it up. The biggest challenge in making this show is that I need to trim it down to 48 minutes and Ace and I spoke for two hours and 20 minutes! That was agonizing to do! The whole conversation was a pot of gold in my opinion.
Sleaze Roxx: You're also working on a new book but this time around, it's your autobiography.
Eddie Trunk: [Long pause] Yeah. I started it a couple months ago. It started off pretty well but I got completely sidetracked with everything I just told you about. I pretty much put it on the back burner though I did manage to write two chapters. No one has read them but I will say that the publisher of my last two books is very interested in it. I have another publisher that is also interested in the book. I'd like to write at least two more chapters then work forward from there. Like you said, it isn't going to be like my first two books. It will be my story. I promise there will a lot of great behind the scenes stuff. I would like to write it completely on my own and not use a co-writer. I was hoping to have it out by the end of 2016 but as it looks like now, it's unlikely.
Sleaze Roxx: What do you make of musicians taking to social media and battling trolls? We've spoke about Paul Stanley in the past blasting people on Twitter. It seems that Sebastian Bach was pulled into the vortex over a negative concert review in Atlanta recently.
Eddie Trunk photoEddie Trunk: I heard a little bit about that. Not that much to tell you the truth. Baz is a very emotional guy; I'm not surprised that he got caught up in that. These guys are human. [Some] tune that all out and let it roll off their back and others react and shoot back! I do that myself at times. I go through my Twitter feed and 99.9% of them are good people who say constructive and positive things or at the very least in a nice way. Listen, it just takes one person to say something really absurd that rubs you the wrong way and you respond. That's what they are looking for. We've all done it. We've all been there. This isn't the first time, nor will it be the last time that Sebastian will go down that road.
There's a side of me that really likes it when these guys fire back. I think you just have to be careful that you don't do it so much. That is what those people are looking for — acknowledgement…What gets me is when someone pops off about something that has no merit whatsoever. I'll give you an example. Recently, someone posted that the reason 'That Metal Show' wasn't on the air was because "Eddie wants too much money! Eddie's demands are too high!" I just laughed at that! Where does someone even come up with something like that?! It has nothing to do with me [laughs]! There's a crew of 40 people that the show employs. It's about the budget, the cost of producing the show — it's not about me.
In the case of Sebastian for the most part, he really does sing fairly well. I don't know maybe the guy had a bad night. Again, I don't have a problem firing back. Just don't do it all the time otherwise people will bait you.
Read more at Sleaze Roxx.
source: sleazeroxx.com