ROCK CANDY MAG MAKE THEIR DEBUT WITH DEF LEPPARD'S JOE ELLIOTT ON THE COVER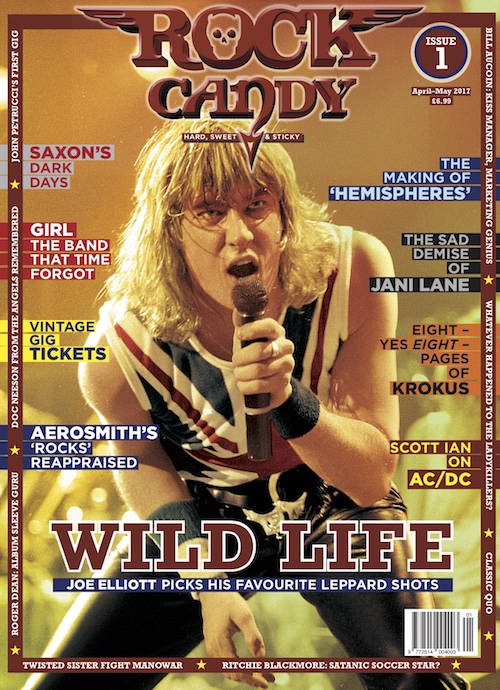 Rock Candy Mag is a 100-page, full-colour bi-monthly rock mag available in glorious print – and a little bit grudgingly in digital format to those who buy a print edition. It covers the sights, sounds and smells from the greatest era ever in hard rock music, the '70s and '80s. The mag is proudly, flag-wavingly, unapologetically nostalgic. Why? Because we think rock'n'roll was better then.
Rock Candy Mag is put together by respected UK rock journalists Derek Oliver, Howard Johnson and Malcolm Dome. They all worked at Kerrang! in the '80s, saw everything that went down in this classic period – and lived to tell the tale. The magazine is self-funded and is 100% fuelled by passion for the music. Some of you may know that Derek already runs Rock Candy Records, the world's greatest rock reissues label.
"We were sick and tired of not being able to read about the bands we love in a real, 'hold in your hands' mag," says Editor HoJo. "I want to touch, feel and even smell rock'n'roll – and you just can't do that on the Internet."
The first issue of Rock Candy Mag features an exclusive cover story of Def Leppard frontman Joe Elliott giving his personal views on amazing pix from throughout the band's career.
"Joe couldn't have been more helpful in supporting Rock Candy Mag," says HoJo. "Now it's all about telling the world about our magazine via Facebook, Twitter, Instagram and good old-fashioned word of mouth!"
For more information, rockcandymag.com.