ROB ZOMBIE DISCUSSES HIS NEW ALBUM, "THE ELECTRIC WARLOCK ACID WITCH SATANIC ORGY CELEBRATION DISPENSER," AND SAYS, "IT'S A SHORT RECORD, AND THE SONGS ARE SHORT"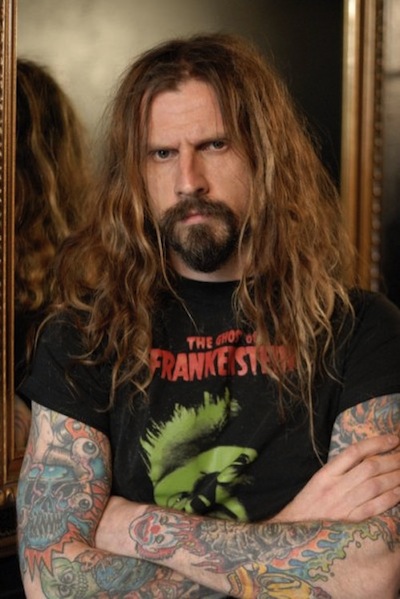 Rolling Stone reports:
Rob Zombie [has released a new album on April 29th], and it has a psychedelic, eye-popping title, The Electric Warlock Acid Witch Satanic Orgy Celebration Dispenser. "To me, that [title] is what the record sounded like," he tells magazine.
…When asked about how he challenges himself while making LPs some 30 years into his career, counting White Zombie, he says his main goal is to make something interesting. It's an objective that applies to his whole outlook on life. "I live in such a fear of being boring," he says.
It seems the only thing he has time for is song and album titles. "With this record, one thing I tried to do is keep it short. It's a short record, and the songs are short," he continues. "Whenever I go through records that I love and I listen to over and over and over, I go, 'Man, this record is short. That's why I loved it so much. It's 30 minutes, so I've listened to it 9,000 times.' … I go back and look at Beatles records, the songs are a minute-and-a-half long. … I love long songs, but if you're going to write a song that long, it better be Freebird or Stairway to Heaven."
Watch a clip of In the Age of the Consecrated Vampire We All Get High and lyric video for Well,Everybody's F–king In A U.F.O, below.
Rob Zombie will be touring with KORN this summer, see dates below.
To read more, and to watch a brief interview with Zombie, go to Rolling Stone
Rob Zombie/Korn Tour Dates:
July 19 – Englewood, CO @ Fiddler's Green Amphitheatre
July 20 – Salt Lake City, UT @ USANA Amphitheater
July 22 – Albuquerque, NM @ Isleta Amphitheater
July 23 – Phoenix, AZ @ Ak-Chin Pavilion
July 24 – Irvine, CA @ Irvine Meadows Amphitheatre
July 26 – Nampa (Boise), ID @ Idaho Center Amphitheater
July 27 – Auburn, WA @ White River Amphitheatre
July 29 – Mountain View, CA @ Shoreline Amphitheatre
July 30 – Las Vegas, NV @ Mandalay Bay Resort & Casino
August 2 – Austin, TX @ Austin 360 Amphitheater
August 3 – The Woodlands, TX @ Cynthia Woods Mitchell Pavilion
August 4 – Dallas TX @ Gexa Energy Pavilion
August 6 – Noblesville, IN @ Klipsch Music Center
August 7 – Cincinnati, OH @ Riverbend Music Center
August 9 – Maryland Heights, MO @ Hollywood Casino Amphitheatre
August 10 – Kansas City, MO @ Sandstone
August 21 – Clarkston, MI @ DTE Energy Music Theatre
August 23 – West Toronto, ON @ Molson Canadian Amphitheatre
August 24 – Cuyahoga Falls, OH @ Blossom Music Center
August 25 – Burgettstown, PA @ First Niagara Pavilion
August 27 – Syracuse, NY @ Lakeview Amphitheater
August 28 – Boston, MA @ Xfinity Center
August 30 – Holmdel, NJ @ PNC Bank Arts Center
September 1 – Hartford, CT @ Xfinity Theatre
September 2 – Camden, NJ @ BB&T Pavilion
September 3 – Bristow, VA @ Jiffy Lube Live
source: rollingstone.com