DRUMMER CARMINE APPICE RECOUNTS THE INFAMOUS LED ZEPPELIN MUD SHARK INCIDENT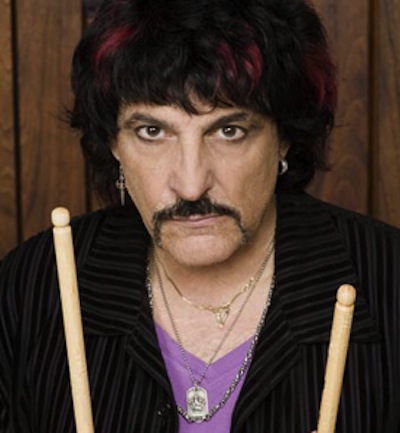 Larry Getlen of the New York Post reports:
Rock drummer Carmine Appice co-wrote a No. 1 song, Rod Stewart's Da Ya Think I'm Sexy; played with everyone from Jeff Beck to Pink Floyd; befriended his idol, drum legend Buddy Rich; and even, to hear him tell it, influenced Led Zeppelin.
But one of his stranger achievements was patrolling hotel hallways as a member of the "Sex Police."
The group — consisting of Appice, Stewart and other members of Stewart's band — would listen for anyone in the band or crew having sex and sabotage these encounters any way they could.
…[When] Led Zeppelin and Vanilla Fudge toured in 1969, in Seattle, that both would participate in the most notorious groupie incident in rock history.
Appice was there, and gives a full, disgustingly detailed recounting of the infamous Led Zeppelin mud-shark story, wherein Bonham and/or Zeppelin's tour manager, Richard Cole, have long been said to have pleasured a young woman with a shark.
According to Appice, the story is not only true but much more intricate and debauched than most tellings have conveyed.
As Appice tells it, he, his bandmate Tim Bogert, Jones and Plant and Plant's wife, Maureen, were getting high in Jones' room when there was a knock at the door. Scrambling to hide their pot, it turned out to be a girl Appice had had a series of dalliances with (described in minute detail in the book) the day before…
…Appice, too high to deal with her, went next door to hang out with Bonham and his wife, Pat, Cole and two crew members, several of whom were fishing out the window. They had a "mini-aquarium" in their bathtub, including "a 2-foot-long, dead-eyed, ferocious-looking mud shark." He told them about the girl, then later returned to the first room.
There, Appice and the rest listened to music as again, there was a knock at the door. When they opened it, Bonham, Cole, and the two crew members barged in, with Appice's bandmate, Mark Stein, "holding a Super 8 camera and lights."
From here, Appice writes, it was "carnage," as Bonham and Cole went right for the girl.
" 'You want to make a f—ing movie?' they asked her. 'OK, let's do it right now! Take your clothes off!' "
As she did so, Appice realized that the camera and lights weren't all they had brought from the other room. They also brought the shark.
Cole and a crew member threw the girl on the bed. With Stein filming, Cole took the shark by the tail and "started whipping the girl with it, beating her again and again as she writhed around the bed."
Each time the shark made contact, Appice writes, "its teeth ripped her skin and left tiny blood-red scars all over her back." Throughout, the girl "was bucking and screaming with pleasure," as if in the throes of orgasm.
Soon, the shark was being used differently, having sex with the girl as Appice and the others "were all doubled up with laughter as the insane scene developed."
The noise attracted the attention of the hotel manager, who burst into the room, saw the scene, and demanded they stop at once. Appice, Jones and Bogert scrambled out of the room in hysterics.
This is only the first part of the story. The second part is even more depraved, as roadies used the woman and humiliated her further. Jones finally had to leave in disgust, and Appice says he would have done the same had it not been taking place in his room.
The next day, Appice saw Frank Zappa at the airport and shared the story with him, and Zappa immortalized the tale in a 1971 song called The Mud Shark. (In the song, Zappa says the story was told to his keyboardist, Don Preston.)
Appice played in many bands over the years, both his own and others. Vanilla Fudge was followed by Cactus, then by Beck, Bogert and Appice, in which he had many disputes with guitar icon and on-again/off-again friend Jeff Beck.
He played in Ozzy Osbourne's band for a time but writes that Osbourne's manager/wife Sharon was angered by increasing attention he received for his special-effects-laden drum solo on the tour.
Previously told he could sell his own merchandise, he arrived for one show to find that his face had been cut out of his T-shirts — on every single shirt. When he asked who had done this, the answer was, "Ask Sharon." That night, as he began his solo, his special effects failed. He was fired from the tour soon after…
…Appice was married, to five different women, for much of his groupie-loving existence. Now, he has been in a relationship with a New York rock DJ named Leslie Gold — known as the "Radiochick" — for 13 years. At one point, Gold insisted on figuring out how many people he'd had sex with in his life. Her own total was seven.
Using a spreadsheet, she arrived at the number 4,500.
Now 69, Appice insists he has always been faithful to Gold.
"Leslie asked me a loaded question, and the shocking answer was 4,500," he writes. "But number 4,501 was the one that mattered most."
Read more at the New York Post.
Carmine Appice will be releasing a memoir called Stick It!: My Life of Sex, Drums, and Rock 'n' Roll on May 1st through Chicago Review Press that contain the stories referenced above and many more. The book is available for purchase at Amazon.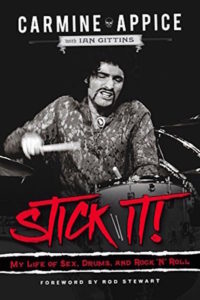 source: nypost.com