RIVAL SONS RELEASE SECOND SINGLE "RAPTURE," NEW ALBUM, "DARKFIGHTER," CHANGES RELEASE DATE TO JUNE 2ND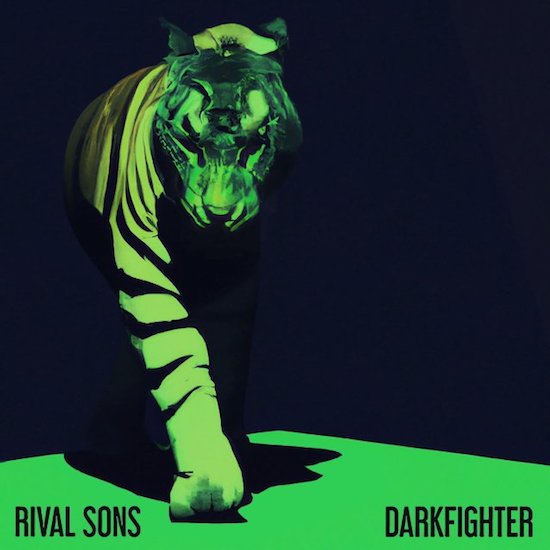 Two-time-Grammy-nominated band Rival Sons have shared their new single Rapture (see below), which is available today (1/20) on all streaming platforms. It stands out as the latest anthem to be unveiled from the group's anxiously awaited new full-length album, Darkfighter, now due on June 2nd. Additionally, they have unlocked the pre-order for the limited-edition vinyl of Darkfighter also arriving worldwide on June 2nd.
Heightening excitement for this next chapter, the band have also shared details of a companion album titled Lightbringer — due out in late 2023.
Expanding on the two-album set, vocalist Jay Buchanan commented, "In comparison to our previous records, we certainly took our time both writing and recording this collection. When we set out, the intention was mostly to dig as deep as possible. Even in the beginning before the body had formed, we agreed to throw the map away and chop our way through the woods to make a new path. Then lockdown hit and it felt like the whole damn country decided to throw the map away too. For myself, 2022 was like an eight-stage rocket of life changing events, so every time I thought I was finished writing, a new bull would come tearing through the clothesline and I'd have to illustrate it in some way. By the end, there were really two different sides to the same story being told. On one side, you're fighting the darkness and, on the other, you're bringing your own light to where there is none. One side in a corner, on the ropes, and the other advancing, cleaning the ring. Without an intermission, a refractory period, the collection would be too big a bite, so splitting it in two was the only way to do it."
To read more about Darkfighter and to hear the band's first single, Nobody Wants To Die, please click here.
In support of their forthcoming album, Rival Sons will embark on a run of North American tour dates alongside Whiskey Myers next month which are set to begin on February 16th in Knoxville, Tennessee at the Knoxville Civic Auditorium. Furthermore, the band will join Greta Van Fleet for a handful dates beginning March 26th at the Tucson Arena in Tucson, Arizona and perform at Welcome To Rockville in Daytona Beach, Florida on May 20th and Sonic Temple in Columbus, Ohio on May 27th.