LAST IN LINE TO RELEASE NEW ALBUM, "JERICHO" ON MARCH 31ST, NEW SINGLE "GHOST TOWN" AVAILABLE NOW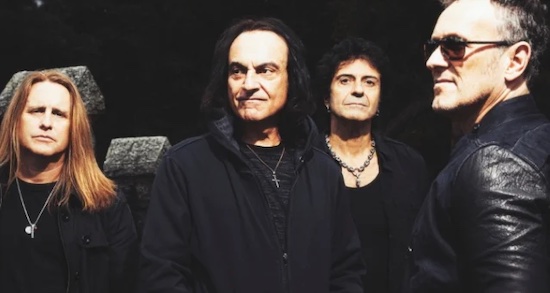 Last In Line — the band featuring frontman Andrew Freeman, bassist Phil Soussan (ex-Ozzy Osbourne),and original Dio members Vivian Campbell (Def Leppard) and Vinny Appice (ex-Black Sabbath) — will release its third studio album, Jericho, on March 31st through earMUSIC.
To kick things off, the first track Ghost Town was released digitally today (1/20). The accompanying music video can be watched below.
Freeman states, "The song for me describes breaking a cycle from different perspectives. On a personal level it could be family, career or life expectations, putting a person in an unwanted or unwelcome space. On a grander scale it addresses government expectations. Non-sensical, unethical ideas and laws that become the norm, while turning a blind eye to larger problems."
Despite the past two years of isolation, this record was produced in the best hard rock tradition with great studio performances of an excellent all-star lineup.
Campbell explains, "With Last In Line, just as we did with Dio, we cut the basic tracks live. It's important for us to capture the energy of the syncopation of playing together in real time — much like the energy of a live show. This record represents the best of both worlds: the spirit of an energetic band performance, and the more reflective and nuanced qualities of our individual performances, too."
Appice invites us, "All the musical forces of Last in Line are combined here for a super-powerful new record. Press play and put your seatbelts on."
Jericho track listing:
1. Not Today Satan
2.  Ghost Town
3.  Bastard Son
4.  Dark Days
5.  Burning Bridges
6.  Do The Work
7.  Hurricane Orlagh
8.  Walls Of Jericho
9.  Story Of My Life
10. We Don't Run
11. Something Wicked
12. House Party At The End Of The World
Last In Line's debut album, Heavy Crown, was released in February 2016 via Frontiers Music Srl. The release had been preceded by tragedy whenn bassist Jimmy Bain unexpectedly died at the age of 68 on January 23rd, 2016. The band, honoring what they knew would be Bain's wish to keep the band moving, brought in Soussan and committed to sustained touring in support of the album before beginning work on the follow-up release, 2019's II, which was also made available through Frontiers Music Srl.