RIOT HIRE A NEW SINGER AND PLAN TO CARRY ON AS RIOT V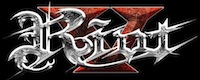 Riot's classic Thundersteel and Privilege Of Power lineup reunited in 2009 and delivered a critically acclaimed album, Immortal Soul, via major metal heavyweights SPV/ Steamhammer and Avalon/ Marquee. A successful tour with performances on the prestigious 70000 Tons Of Metal cruise and appearances at Sweden Rock and Metalway festivals solidified Riot's long-sought-after return a success, but success doesn't come without tragedy.
The band's journey has never been easy, with personnel changes and the untimely deaths of frontmen Guy Speranza, Rhett Forrester as well as the passing of long-time founding guitarist Mark Reale who finally lost his lifelong battle with Crohn's disease early last year, and with Tony Moore battling his own demons and health issues, Riot, like Johnny, are back again!
Through the storm of life's obstacles, Mike Flyntz, Bobby Jarzombek and Don Van Stavern are joined by powerhouse vocalist extraordinaire Todd Michael Hall (Jack Starr's Burning Starr, Reverence) and are ready to raise the flag in honor of the Riot legacy of music and our fallen bandmates and heroes, as well as the fans who have been demanding Riot for years and years to come! With the blessing of Mark's father Tony Reale, the remaining members prepare for the next phase, the fifth phase if you will, of Riot.
Mark always used to say that there were always different phases of Riot throughout the years continuing on with a new singer, sound, logo as well and each having a few records under their belt, Phase One: Guy Speranza, Phase Two: Rhett Forrester, Phase Three: Tony Moore, Phase Four: Mike DiMeo and now Phase Five: Todd Michael Hall! A new album is in the works for a summer 2014 release and reissues are due on Sony, EMI and Metal Blade.
Riot V is:
Todd Michael Hall – Vocals
Bobby Jarzombek – Drums
Don Van Stavern – Bass
Mike Flyntz – Guitar