THE COLLECTION OF LEGENDARY ROCK ICON RONNIE MONTROSE OFFERED AT CHARITY AUCTION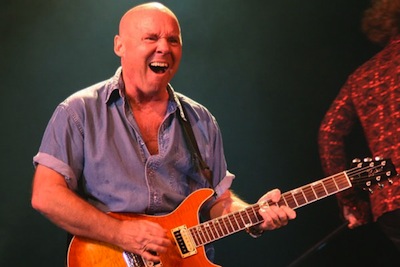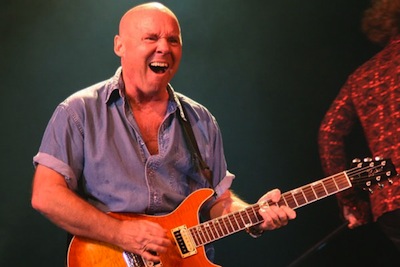 Legendary rock icon Ronnie Montrose has been called the "Father of American Hard Rock," an innovator and an incendiary guitar genius. For the first time fans of Ronnie Montrose will have the opportunity to bid on a vast array of instruments, personal items and memorabilia from the late genius' musical life which will benefit the Sweet Relief Musicians Fund.
Highlights of the Montrose Collection at Julien's Auctions' upcoming Icons & Idols: Rock N' Roll event include an extraordinary array of Ronnie Montrose's personal guitars, played on stage and part of his unprecedented place in rock history. It also includes personal items, stage and studio equipment and memorabilia.
Luthier CJ Hutchins describes Ronnie Montrose's 1997 Baker B2 "The Beast" guitar which is offered in the auction as "a very special guitar." Hutchins tells the story of how for years Montrose's sound was produced by a Gibson Les Paul that sadly was stolen off stage. Since Ronnie was more comfortable with a 25.5 scale length and a 17/8" nut width, he pretty much quit playing Gibson Les Pauls and Gene Baker made him "The Beast" to bring back the power into Ronnie's arsenal. He added that "this was the go to guitar for a Les Paul that's more Les Paul than a Les Paul." (Estimate: $5,500-$6.500)
"Flat Top Red – If ever there was a man's alter ego, Flat Top Red was it! If I had a dollar for everytime I heard the opening riff from "Rock Candy" played on a stage somewhere in the world, well, you get the idea," said Ronnie's luthier CJ Hutchins. He added "The Beast was much sweeter but Flat Top Red has more throat. He used it everywhere for nearly everything. He loved it so much; in fact, he had Gene make a clone of it, only in blue which he named "Blue Dog."This very special guitar offered at auction is estimated at $5,000-$5,500.
Hutchins also explains the Bogner Shiva and how he would describe Ronnie changing guitar rigs like he changed his socks. Montrose was always looking for the elusive ratio between headroom and distortion and how the FX loop was engineered was also vital to him. He personally modified that part of the amp to make it more clean and less reactive to his tone, in other words more transparent. The Shiva was all he used at home, in the studio and on stage. "Gamma 4" was recorded with the Shiva. The custom modified amp will also be offered at auction with an estimate of $3,000-$4,000.
Other highlights include a Ronnie Montrose owned, played and personally modified 1963 Fender Stratocaster (Estimate: $15,000-$17,000), a Ronnie Montrose 2003 Taylor 712 CE guitar which he used as his main acoustic performance guitar (Estimate: $3,000-$3,500), original Montrose handwritten lyrics (Estimate: $1,000-$1,200), a Ronnie Montrose owned and played 1994 Fender Stratocaster "Skinny" model guitar (Estimate: $6,000-$7,000), a 1943 Gibson J4 "The Old Boy" guitar (Estimate: $6,000-$7,000), a Ronnie Montrose Custom MOOG System (Estimate: $800-$1,000), a Ronnie Montrose 1980's SHO-BUD pedal steel (Estimate: $1,200-$1,400), a 2002 Baker BJ "Montrose" model guitar (Estimate:$4,000-$4,500) and much more. The full selection of Ronnie Montrose items can be viewed at www.juliensauctions.com. Once at the site you can click "flip catalog" and view all of the items.
A portion of the proceeds from the sale will go to Sweet Relief, an organization that provides financial assistance to all types of career musicians who are struggling to make ends meet while facing illness, disability, or age-related problems. For more information go to www.sweetrelief.org/news/ronnie-montrose.
"Sweet Relief Musicians Fund is thrilled to have been chosen by Leighsa Montrose as a beneficiary for the sale of Ronnie Montrose's gear. We look forward to being able to honor Ronnie's legacy by continuing to provide help to musicians in need who are suffering from Cancer, MS, Diabetes, Depression and other debilitating ailments. It is generosity like this that allows us to do our work in a real and meaningful way," Bill Bennett, President of Sweet Relief Musicians Fund.
Ronnie Montrose created the iconic guitar riff for the classic song Wild Nights during his time with Van Morrison. In the Edgar Winter group he left even a bigger mark with his catch heavy-handed riffs on songs like Free Ride and "em>Frankenstein. It was his self-titled release Montrose that would become his iconic moment and a cornerstone of American hard rock. This release in 1973 gave fans such classics as Rock Candy, Space Station #5 and Rock the Nation. It laid the ground work and became the template for bands like Van Halen and countless others. His musical journey led him to the creation of GAMMA where he crafted songs like Voyager, Thunder and Lightning and Ready for Action. Known for always reinventing himself through his ownself-inflicted creative challenges he ventured through a brief instrumental period and brought the world Open Fire and Town without Pity.
"Ronnie was a force of nature and in his time here on this earth, he followed his own true north, making the music that came from his heart and inspired
millions. He was never afraid to step off the beaten path, and take the direction that his instinct told him to follow," said his wife Leighsa Montrose. "He fully understood his gifts, and constantly pushed himself to evolve, improve, and make better music. He did this for himself, and he did this for you because he adored and appreciated his fans. I can only hope that youwill choose to celebrate Ronnie's life, and what his music meant to you, rather than mourn his passing. Ronnie would have wanted it that way. He loved being a guitarist, a composer, a producer, and a creator of magic. Please keep his energy, his joy, and his love in your hearts."