RICHIE KOTZEN, VINNIE MOORE AND GUS G. TEAM UP FOR U.S. FALL TOUR DATES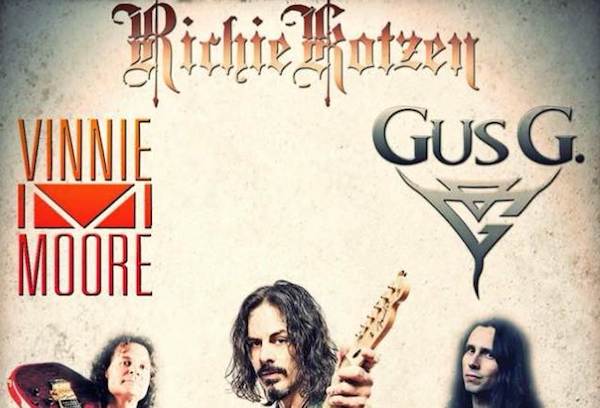 Guitar legends Richie Kotzen, Vinnie Moore and Gus G. will join forces for a 10-date U.S. tour in the fall. Prior to this tour, Vinnie and Gus will play four shows in Texas without Kotzen.
Vinnie Moore and Gus G. tour dates:
Sep. 13 – Houston, TX – Scout Bar
Sep. 14 – San Antonio, TX – Rock Box
Sep. 15 – Dallas, TX – Trees
Sep. 16 – Lubbock, TX – Jake's
Richie Kotzen, Vinnie Moore and Gus G. tour dates:
Sep. 18 – Scottsdale, AZ – BLK Live
Sep. 19 – Las Vegas, NV – Count's Vampd
Sep. 20 – San Juan Capistrano, CA – The Coach House
Sep. 21 – Sacramento, CA – Holy Diver
Sep. 23 – Portland, OR – Hawthorne Theater
Sep. 24 – Seattle, WA – Studio Seven
Sep. 26 – Oakland, CA – Yoshi's
Sep. 28 – Santa Clarita, CA – Canyon Club
Sep. 29 – Agoura Hills, CA – Canyon Club
Sep. 30 – Pasadena, CA – The Rose
Kotzen's 21st solo album, Salting Earth, was released in April 2017 via his own custom label, Headroom-Inc. The disc veers from the balls-out, heads-up declaration of the opening track and first single, End Of Earth, to the burning-sky harmonic thrust of Thunder to the Prince-like funk-jazz swing of This Is Life to the acoustified take-me-as-I-am self-reflection of the album's final song, Grammy. Kotzen's previous solo release, 2015's diverse, far-reaching Cannibals, was a well-received hit among his core fan base,
Moore's latest solo album was released in October 2015 through Mind's Eye Music. Titled Aerial Visions, the disc featured drummer Richie Monica (Tantric, Poppa Chubby), and bassists Dave LaRue (Steve Morse, Flying Colors, The Dregs), Rob DeLuca (UFO, Sebastian Bach), Dorian Heartsong (Jason Bonham's Led Zeppelin Experience) and Elliott Dean Rubinson (Uli Jon Roth, MSG).
Vinnie has released eight critically acclaimed solo albums; six albums and one DVD as a member of rock royalty legends UFO; and one album with band Red Zone Rider. His solo and UFO releases as well as live performances have amassed rave reviews all around the globe from both fans and music press, inspiring guitarists worldwide and launching him into aerial guitar superhero distinction.
Gus G.'s latest solo album, Fearless, was released on April 20th through AFM Records. The follow-up to 2015's Brand New Revolution marks Gus's first release since exiting Ozzy Osbourne's band in 2017.
On Fearless, Gus joins forces with vocalist/bassist Dennis Ward (Pink Cream 69, Unisonic) and drummer Will Hunt (Evanescence).