REPORT SURFACES IN A PORTUGUESE PUBLICATION THAT THE CLASSIC GUNS N' ROSES LINEUP WILL BE PLAYING THERE IN EARLY 2016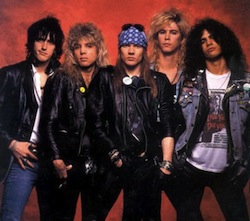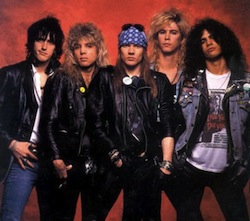 According to a new report from Blitz, the much-anticipated and massively-rumored reunion of the classic Guns N' Roses lineup will happen next year, with the first show set to take place in Portugal in early 2016.
The source points out that one of the country's "top promoters" went to London to negotiate a $1.5 million deal for a two-hour live concert by the band.
When it comes to notable festivals that might host the show, Rock in Rio Lisboa will take place in May for five days between May 20th and 28th, while the Super Bock Super Rock festival has been scheduled between July 14th and 16th.
Additionally, the source noted that there are ongoing negotiations for various classic GN'R dates, which matches the previous report about the group gearing up to embark on a $100 million comeback tour.
[Dana's note: Thank you to Todd, for bringing this story to my attention, it is very much appreciated.]
additional source: ultimate-guitar.com