RAVEN'S JOHN GALLAGHER DISCUSSES TOURING WITH OZZY AND METALLICA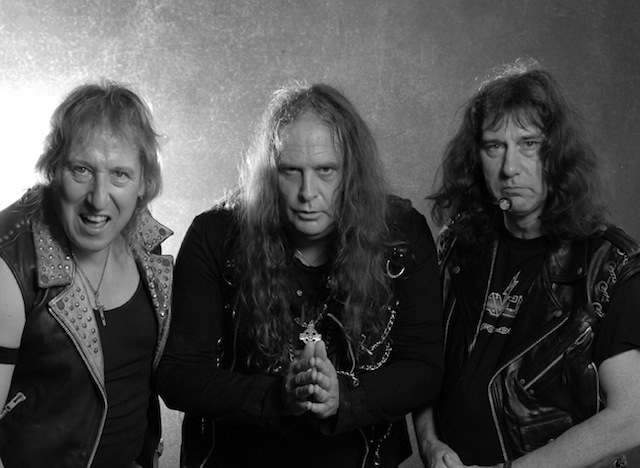 Andrew McKaysmith of the Scars And Guitars podcast recently conducted an interview with bassist/vocalist John Gallagher of British metal legends Raven. A few excerpts follow (transcribed by Blabbermouth.net).
On being part of the New Wave Of British Heavy Metal scene:
John: We had the first independent metal album out in England, which was Rock Until You Drop back in 1981. There's plenty of other bands out, but the funny thing about the NWOBHM, it wasn't a club. It was just basically a moment in time where there was a lot of bands spread out over England, over the U.K., really, who loved this music and wanted to play this music. The only thing we really had in common was the passion and the energy because Iron Maidenare nothing like Def Leppard, who are nothing like Raven, who are nothing like Venom, who are nothing like Angel Witch. They are all totally different and that's what made it really special, that it was so diverse. We always had our own thing. We were a three-piece, so that made it different immediately from ninety-nine percent of all the other bands.
Discussing playing shows with Ozzy Osbourne in 1980: 
John: We did shows. It was Ozzy's first solo tour. He heard our single, Don't Need Your Money on the John Peel [radio] show. John Peel was a DJ who played new music, didn't matter who it was. He played our single and Ozzy heard it when he was somewhere and went, 'I want that band.' We played Newcastle, Sunderland, Middlesboro and the Hammersmith Odeon. It was awesome, Randy Rhoads [guitar], Lee Kerslake [drums], Bob Daisley [bass]. Bob's a genius, genius lyricist, incredible bass player. What a musician. Very influential. Really cool.
Speaking about whether he had any interactions with Osbourne during the shows: 
John: We didn't talk to him a great deal. We talked to him quite a bit at the first show. I really didn't talk to Ozzy on the last show. Ozzy and [wife/manager] Sharon [Osbourne] had me sat at a table and Sharon said, 'Ozzy wants a hand in your future.' My jaw hit the floor. We talked for a minute, then Sharon's father [record label exec Don Arden] turned up. That was the end of that. [Laughs] You could maybe say we dodged a bullet. [Laughs] We played with Ozzy, a guy on that tour who was just a kid wondering around was Ozzy's minder. He was on all the TV shows and everything. There's a connection there with Newcastle. We played a couple of festivals and stuff with him over the years. Black Sabbath is like royalty, you know? There's always that. Those early Ozzy albums are incredible. Can't take that away, that's for sure.
On helping introduce Metallica to American audiences in 1983: 
John: "We took Metallica out on their first tour. No one knew who the hell they were, but we heard them and said, 'Yeah, these guys are great. Let's do it.' What's the point of having a bad opening act? You want to make an evening of it. You want to have a trajectory. You want to start somewhere and go somewhere. The same thing with Anthrax. Anthrax were booking us from the first time we arrived in America. Scott [Ian] was at all the shows. Great guys, great band. We were lucky enough to get to open for Metallica a few years ago back in Brazil, with 70,000 people, which was unbelievable. They were more than gracious. They said thank you to us during the show, which we didn't find out until afterwards because we left early. You don't want to be stuck behind 70,000 people leaving the arena when you got a show the next night. We've run into Anthrax at a couple of festivals. They've never changed; they're still great guys and they're a great band. There's very much that camaraderie between most of the bands actually now these days. I'll run into Death Angel and Mark [Osegueda] is always, 'I always was such a huge Ravenfan.' We definitely got a lot of people fired up. [Laughs] We continue to do so. Now we go and play and it's three generations of fans. We're going to Mexico and South America and I swear when you play there, there's nobody over 25. It's crazy. They know everything. It's awesome. The music is alive. It stays alive and it's more alive now than ever, even though it's kind of driven underground. Sometimes the best place for it."
Raven's forthcoming new album, the follow-up to 2015's ExtermiNation, will mark the band's first effort with Heller, who replaced Joe Hasselvander in 2017.
Earlier this year, the group released a live album, Screaming Murder Death From Above: Live In Aalborg, through SPV/Steamhammer.