RATT FRONTMAN STEPHEN PEARCY DISCUSSES THE BAND'S LATEST LIMITED EDITION BOX SET "THE ATLANTIC YEARS," AS WELL AS MÖTLEY CRÜE'S DRAMA, STATING "IF THEY WANT TO USE TAPES…IT DOESN'T CHANGE MY FRIENDSHIP WITH THESE GUYS"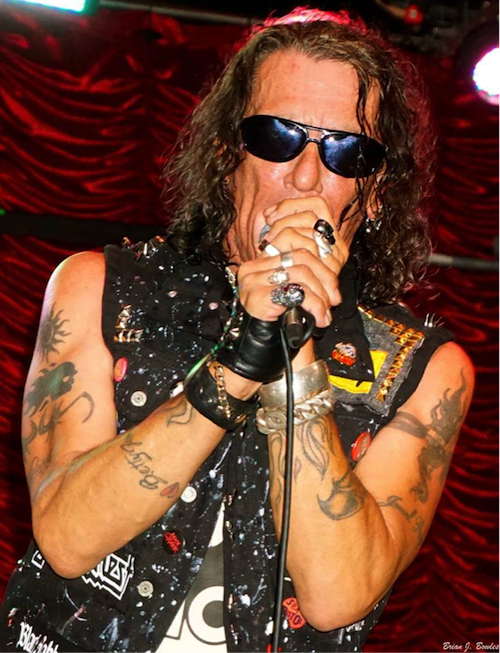 Greg Prato of Songfacts spoke with Ratt frontman Stephen Pearcy about the band's Ratt's The Atlantic Years Limited Edition Box Set, which can be ordered, here.
Songfacts: How did the idea come about to do The Atlantic Years box set?
Stephen Pearcy: This box set, I don't even think the label knew it was the 40th anniversary of the group – it would be 40 years next year for Out Of The Cellar. But it's appropriate. They just got ahold of us and said, "We're going to put this really crazy package together – we'd like you all to be involved." And, all of us were involved.
I gave them what I thought Robbin would like [Crosby died in 2002 at 42], but everyone participated in giving pictures for this big package, which is probably the only reunion you're going to see from the band, unfortunately. It would be great if we could [create] a tour off with this. We'll see. Never say never. Next year is the true 40th anniversary of Out Of The Cellar.
Songfacts: You recently toured with [bassist] Juan [Croucier], but are you on good terms with the other surviving Ratt members?
Pearcy: I speak to [drummer] Bob[by Blotzer] quite a bit – he's doing some press for this. I haven't spoken to [guitarist] Warren [DiMartini] in ages – I hope he's well. Great guitar player. But no, there's not much happening. But that's OK – to each his own.
I'm doing the Sunset Strip Experience Tour and promoting this, so I'm out there kicking about, and if you want to hear some Ratt 'n' Roll, here's where you're going to get it.
Songfacts: Which Ratt music video was your favorite?
Pearcy: I'd say Wanted Man. Just for the fact that everybody wants to be a cowboy, right? And what was funny was, we did a festival really early and the video was the next day. So we're probably driving hundreds of miles to do this video. We get up at 5:00 or 6:00 in the morning for makeup and dress – It's time to be cowboys. We loved it.
Marshall [Berle, the band's manager] was clever in helping the producers and directors with our videos – always. We wanted to keep them kind of fun, not serious, heavy-metal fire and brimstone. It was great to just go through that trip of dressing up, getting on the horses.
I was talking to somebody the other day. We actually have enough videos to do a full concert set, so I might just do that one day, the "video tour." We've got maybe 16 or 18 videos.
Songfacts: Are you still friends with Mötley Crüe, and if so, have you discussed the current Mick Mars situation with any of them?
Pearcy: No. I do shows with brother Vinnie [Vince Neil] to this day – we have a show coming up. It wouldn't even come up because it's unnecessary. Look, I don't give a s–t. I don't need press, I don't need that. People make it out to be this thing, but it's really a drag because I went in there and said my two cents on behalf of [drummer] Carmine [Appice], who I thought was kind of f–ked up.
But you know what? They do what they do, we do what we do. We always have. We're The Gladiators. We go way back, hanging out on the Sunset Strip. Robbin lived with [Mötley Crüe bassist] Nikki [Sixx], my dogs lived at Vince's. Vinnie and I are close – we got our racing licenses together. We're still friends. S–t happens in bands, and you really don't know the truth until the end of the day.
But if Carmine says what he says, I don't doubt him, but it's none of my business. If they want to use tapes, use tapes. It doesn't change my friendship with these guys. They'll tell me to f–k off as fast as I'd tell them.
And it's all a joke, it's tongue in cheek – we're brothers. Why have animosity for something that's going around in the press? "Hey, I didn't like what he said." OK, so what? Next. It's no big deal.
I just wish Mick well. They're going to deal with their business as we have dealt with ours. We've been suing each other for ages [Laughs]. S–t happens. I wish them all good. But we've got a show coming up – Vince and I – and it's way cool.
To read more, including Pearcy discuss the details about individual Ratt songs, please click here.