PANTERA TO RELEASE "THE COMPLETE STUDIO ALBUMS 1990-2000" PICTURE DISCS ON JULY 21ST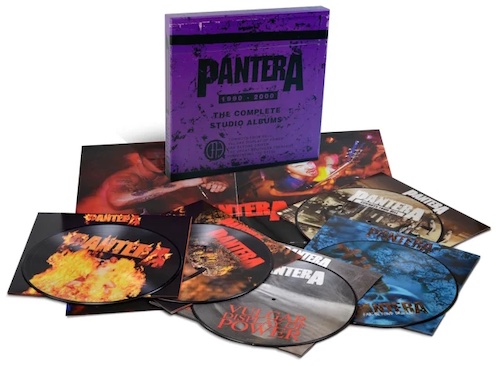 Pantera's studio albums will make their picture-disc debuts in a new five-LP boxed set that spotlights the band's everlasting mark on the metal scene.
The Complete Studio Albums 1990-2000 (picture discs) will be available exclusively online at Rhino.com, Pantera.com, and indie retailers on July 21st, limited to 3,500 copies worldwide ($149.98). Each picture disc features the cover image from the original album. The career-spanning set also comes with a poster featuring all four members.
The hard-hitting collection unleashes a decade's worth of Pantera's inimitable sound and fury from Philip Anselmo, "Dimebag" Darrell Abbott, Rex Brown and Vinnie Paul Abbott. It includes the double-platinum albums Cowboys From Hell (1990) and Vulgar Display Of Power (1992),platinum albums Far Beyond Driven (1994) and The Great Southern Trendkill (1996) and the gold-certified record Reinventing The Steel (2000).
Cowboys From Hell debuted in 1990 and is the album that made Pantera heroes to headbangers everywhere. After peaking at No. 27 on the Billboard 200, the album went on to become one of the most influential metal albums of all time and was recently certified double platinum.
Vulgar Display Of Power arrived in 1992 and refined the band's heavier-than-heavy aesthetic with songs like Mouth For War while simultaneously showcasing the group's musical range on the haunting ballad Hollow. The album was certified double platinum and spent 79 weeks on the Billboard 200, longer than any other Pantera album.
The band's success continued in 1994 with Far Beyond Driven, the most extreme album to ever debut at No. 1 on the Billboard charts. Several tracks became fan favorites, including 5 Minutes Alone and a cover of Black Sabbath's Planet Caravan. The single I'm Broken was nominated for the Grammy Award for "Best Metal Performance" — the first of four Grammy nominations the band would earn.
The Great Southern Trendkill was released in 1996 and debuted at No. 4 on the Billboard 200. The platinum-certified album contains some of Pantera's darkest lyrics and fastest tempos, including Suicide Note Pt. II, nominated for the Grammy Award for "Best Metal Performance". Guitar World magazine ranked Dimebag's solo on Floods at No. 32 on its list of the greatest guitar solos of all time.
Their final studio album, Reinventing The Steel, came out in 2000. The record peaked at No. 4 and was certified gold. The album features classics like Goddamn Electric and the Grammy Award-nominated single Revolution Is My Name.
Pantera's surviving members Anselmo and Brown recently united with guitarist Zakk Wylde (Ozzy Osbourne, Black Label Society) and drummer Charlie Benante (Anthrax) for a world tour under the Pantera banner.