RAFFLE AND AUCTION UPDATE FOR "THE BENEFIT CONCERT FOR TONY MACALPINE," SHOW SCHEDULED FOR DECEMBER 12TH AT THE WILTERN THEATER IN LOS ANGELES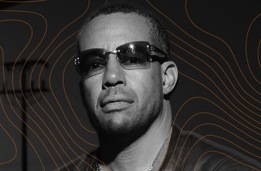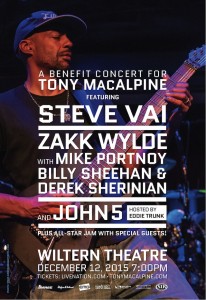 Tickets are on sale now or The Benefit Concert for Tony MacAlpine on December 12th at the Wiltern Theater in Los Angeles, featuring performances from John 5 and The Creatures; Zakk Wylde with Mike Portnoy, Billy Sheehan and Derek Sherinian; Steve Vai and band, and culminating in an all-star jam with house band Portnoy, Sheehan, Sherinian, and featuring special guests. Eddie Trunk will serve as master of ceremonies for the night.
Ton Morello is the first special guest we are announcing who will take part in the all-star jam. More special guests to come. Proceeds from the show will help with Tony's medical costs in his fight against colon cancer.
For those who live outside Los Angeles and can't make it to the show, you can still help by donating to the official GoFundMe campaign.
As part of this extraordinary musical event we will be auctioning an amazing selection of guitars donated by:
– Steve Vai
– Joe Satriani
– Paul Gilbert
– Steve Stevens
– Steve Lukather
– Joe Bonamassa
– John Petrucci/Ernie Ball
– John 5
– Richie Kotzen
– KISS (Gene Simmons, Paul Stanley, Tommy Thayer)
– Jeff Loomis
Signature snares from:
– Simon Phillips
– Gregg Bissonette
– Mike Portnoy
– Eric Singer
Plus:
– Bass Lessons from Rudy Sarzo
From Axes & Anchors Cruise (Feb 20-24, 2016):
– A Balcony Stateroom and 2 Gold VIP packages
Gear Raffle
Tony's gear manufacturers: Ibanez, Hughes & Kettner, EMG, Ernie Ball, Source Audio, Voodoo Lab and Xotic Effects have also generously donated equipment to be raffled at the show including:
Ibanez Guitars
– Ibanez 7-string RG Iron Label with EMG 707 pickups installed
Hughes & Kettner Amps
– GrandMeiser 36 amp plus matching Floorboard, FSM432MK3
EMG Pickups
– Ibanez Prestige loaded with an EMG 57/66 set in black chrome with case
– Nobels ODR-1 classic overdrive pedal
– EMG's new high-end instrument cable designed by Vovox
Voodoo Lab Prize pack:
– Giggity Pedal
– Sparkle Drive MOD Pedal
– Pedal Power 4×4
– t-shirt, hat, stickers
Source Audio prizes:
– 2 x Soundblox Pro Multiwave Distortion Pedals
Xotic Effects prize pack:
– EP Booster
– SP Compressor
– SL Drive Chrome bundle set
– AC Booster
– RC Booster
– Wah Pedal
– BB Preamp
More information about the auctions coming soon.
For the latest updates on the benefit show and raffles, please follow Benefit for Tony FB Event Page.