QUIET RIOT'S "4O YEARS OF METAL HEALTH" TOUR ADDS MORE TOUR DATES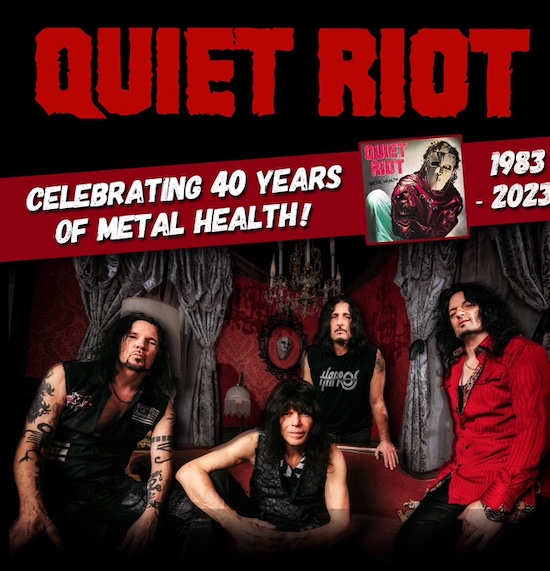 Legendary hard rock band Quiet Riot is set to kick off their 40 Years Of Metal Health tour on March 4th in Canyonville, OR at the Seven Feathers Casino and has announced the first batch of dates for what will be an extensive tour of North America to celebrate the anniversary of the landmark album Metal Health.
The band has announced additional tour dates to their itinerary, see them below.
5/5 – Englewood , NJ – Bergen Performing Arts Center
5/6 – Columbia, MD – M3 Rock Festival
5/13 – Watertown, SD-Studio 212
5/27- Winniemucca , NV -Run-A-Mucca Festival
6/2 – Ashland, KY-Paramount Arts Center
6/3 – Sandusky, OH-Ohio Bike Week
6/9 – Wyndotte, MI-Smugglers Run
6/10 – Las Vegas, NV – Cannery Casino
6/16 – Warsaw, IN-Grover Pavilion
6/20 – St. John's, Newfoundland- Iceberg Alley Festival
6/23 – Pleasanton, CA-Alameda County Fair
6/24 – Umatilla, OR-Umatilla Landing Days
7/2 – Corning, CA-Freedom To Rock Festival @ Rolling Hills Casino
7/14 – Cumberland, MD – Rock The Mountains
7/25 – York, PA- York State Fair
7/28 – Vancouver, WA- Craft Beer & Wine Festival
8/4 – Jefferson City , MO- Cole County Fair
8/12 – St. Michael, ND- Spirit Lake Casino
8/24 – Syracuse NY – New York State Fair
8/26- Walker, MN-Northern Lights Casino
9/1 – Lancaster, NH- Lancaster Fair
9/2 – Derry, NH-Tupelo Music Hall
9/16 – Cottonwood, AZ-Riverfront Park
9/17 – Kennewick, WA -Clover Island
9/30 – Versailles, OH- BMI Speedway
10/7 – Rama, Ontario- Casino Rama
10/13 -Cohoes, NY-Cohoes Music Hall
10/14 – Dalton , MA-Stationary Music Hall
11/17 – St. Louis , MO- River City Casino
12/8 – Hollywood, CA- Whisky A Go Go
3/2/24 – Monsters Of Rock Cruise
3/9/24 – Great Yarmouth, UK-Hard Rock Hell AOR Festival
Metal Health was released on March 11th, 1983 and has the distinction of being the first "metal" album to reach number one on the Billboard charts and to date has sold over 10 Million copies worldwide.
States Metal Health founding member Rudy Sarzo, "We are honored to celebrate the 40th anniversary of Quiet Riot's landmark record Metal Health on tour with all the Head Bangers around the world."
In addition to Sarzo, the band's current line-up includes longtime guitarist Alex Grossi , vocalist Jizzy Pearl and drummer Johnny Kelly.