QUIET RIOT RELEASES "REHAB: RELAPSED & REMASTERED," REISSUE FEATURING NEW KEVIN DUBROW TRACK, "I CAN'T HOLD ON," OUT NOW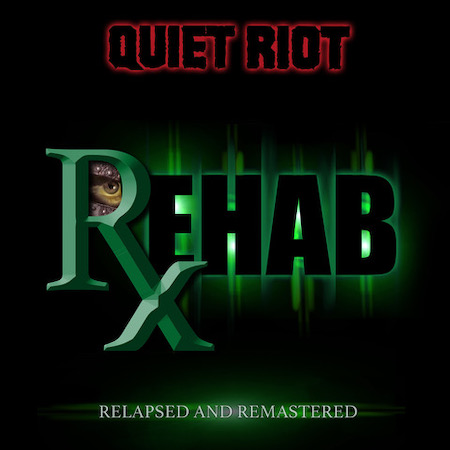 Quiet Riot has just re-released Rehab: Relpased And Remastered through Red Samurai Music. The album includes a previously unreleased track entitled I Can't Hold On, originally written and demoed by Kevin Dubrow and Alex Grossi in 2003. The finished song features a hauntingly powerful vocal from DuBrow and is a semi-posthumous reunion of DuBrow, Frankie Banali, and Rudy Sarzo. The song was edited and produced by Alistair James, who most recently engineered for Joe Perry and Johnny Depp on the latest Hollywood Vampires release Rise. Available for the first time digitally, download/stream, here.
The video for I Can't Hold On can be seen, below.
"The I Can't Hold On video honestly conveys the reason for Quiet Riot to carry on and celebrate Frankie's and Kevin's memories and the Quiet Riot legacy," says bassist Rudy Sarzo. "To play bass on I Can't Hold On with Kevin and Frankie 40 years after our Metal Health record[ing] sessions along with Alex Grossi is truly a blessing."
"It's so great to finally hear this track the way it was supposed to be done," says Alex Grossi. "I completely forgot about it until it turned up on an old iPod last summer. The way it came to life almost 20 years later is truly special and a perfect tribute to Kevin and Frankie."
At the helm of Red Samurai Music is Regina Banali, widow to the late Frankie Banali. "I am now the steward of Frankie's life work and the band, and it is very important to me to protect the Quiet Riot legacy," states Banali. "Rehab was a very important recording to both Frankie and Kevin and a significant part of the soundtrack to the film Quiet Riot: Well Now You're Here, There's No Way Back. 
2022 saw the current line-up of Quiet Riot, which in addition to Sarzo and Grossi, includes vocalist Jizzy Pearl and Type O Negative drummer Johnny Kelly perform nearly 70 shows, including headlining the opening night of the Sturgis Motorcycle Rally, Monsters On The Mountain and the 15th annual Rocklahoma Festival. The band is currently booking an extensive tour for 2023 to celebrate the 40th anniversary of Metal Health, which was originally released on March 11th, 1983.