OZZY OSBOURNE DISCUSSES TONY IOMMI, VAN HALEN, RANDY RHOADS AND MOVING BACK TO ENGLAND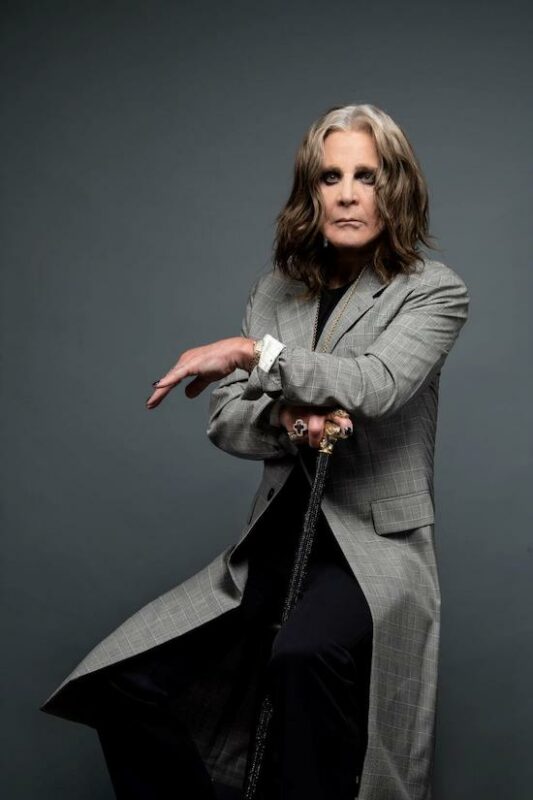 Steve Appleford of Revolver wrote a cover story/feature article on Ozzy Osbourne, segments from the piece appear below.
…"I've had some great times over the last 55 years and I ain't done yet," says Ozzy[Osbourne]…"When you've been around as long as I have — the word 'retirement,' f–k that…"
…Ozzy and his wife (and manager) Sharon are returning to England with their 11 little dogs. They have sold their house and are keeping a humble apartment in California. They're moving for tax reasons, and plan to spend half the year in England, half in the U.S., says Ozzy. Not that he's happy about it.
"I'm more of an American now. I love this country," he says, and predicts that back in the U.K. he'll "go f–king insane, bored sh-tless."
The move will bring him physically closer to [his Black Sabbath bandmate Tony] Iommi…
…"If it wasn't for Tony Iommi, there never would have been a Black Sabbath. We've had arguments, we've fallen out, we've made up. It's just like a marriage. You get divorced, you get back together. But Tony Iommi — and I can never deny this — there's not a man on the face of the earth who comes up with these gutty, dark, heavy riffs. He's the king of riffs."
They text regularly, Ozzy says, and he still speaks often with original Sabbath drummer Bill Ward, though he seems to have lost touch with bassist Geezer Butler. ("The only person that I don't speak to — I don't know where he is — is Geezer," Ozzy noted at SiriusXM. "He just disappears.") Since Osbourne has been dealing with health issues these last few years, a handful of others have made a point of checking in, offering to help in any way, notably including Slash and Korn's Jonathan Davis.
"It's amazing when you get sick, how many people don't call anymore," Ozzy says wistfully. "Slash is a gentleman. He's such a nice man … If I was to phone Slash now and he was in town, whatever I wanted, he'd be around…"
[On the topic of
Van Halen
], Osbourne has his own…memories. In 1978, the young Southern California band was opening for Black Sabbath on the European leg of their
Never Say Die!
tour, not long before Ozzy was pushed out and forced into a successful solo career. "[Eddie] was such a great guy. They came to our local pub and it was good fun," recalls Osbourne.
"But David Lee Roth, he's lost a couple of nuts and bolts. When you meet him, it's like, 'What's wrong with him?' He's like somewhere else, you know?"
Van Halen was part of a new breed of flash guitarist that included another force of nature in the form of Randy Rhoads, who was an essential ingredient in establishing Osbourne at the beginning of the Eighties with Blizzard of Ozz and Diary of a Madman. Like Van Halen, Rhoads followed the cosmic, seemingly limitless example of Jimi Hendrix on the instrument, but with new sounds and techniques.
They were arch enemies," Ozzy remembers. "Randy didn't have a lot to say about Eddie. They were very, very similar guitar players. Eddie took that tapping thing to another level. Randy could do that, but he liked people like Leslie West.
It amazes me that you get Eddie, you get Randy, and you go, 'No one's ever gonna top that.' But there's a new thing round every corner…"
"…The question I'm asked a lot is, 'Which of your albums do you consider the best one?'" says Ozzy. "Well, I haven't done it yet. I could say Diary or any of the ones right after that. But then that means that every one after those ain't no good. That's why I'll keep striving. It keeps you alive."
Read more at Revolver.
Ozzy's new album, Patient Number 9, was released on September 9th. The album landed at the number one on BIilboard's Top Album chart.
In recent Ozzy news, the singer collaborated with Rock And Roll Beauty on limited-edition beauty collection, read more details here.