OZZY OSBOURNE DISCUSSES HIS BLACK SABBATH BANDMATES AND SAYS OF GUITARIST TONY IOMMI "INTIMIDATES THE F–K OUT OF ME"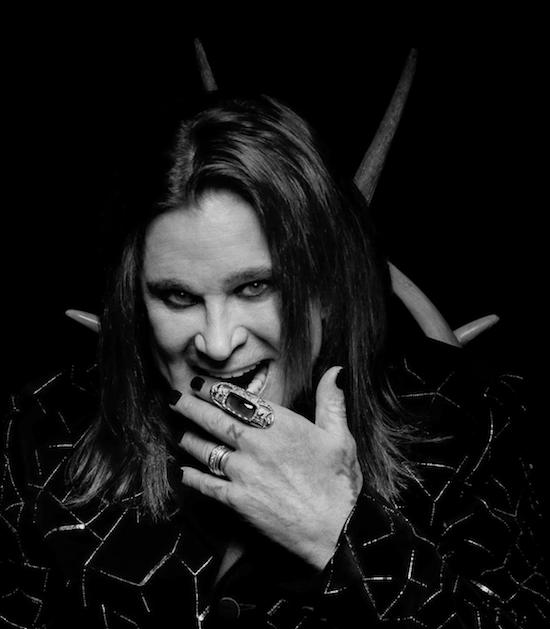 Ozzy Osbourne was interviewed for the latest episode of producer Rick Rubin's Broken Record podcast. During the chat, which can be heard at Apple.com, they discussed Ozzy's upcoming solo record, Ordinary Man; working together to produce Black Sabbath's 13 album; and lots more. Selected portions of the interview appear below via blabbermouth.net.
Discussing Black Sabbath, Ozzy said, "Geezer's [Butler, bass] a great, great lyricist. [And as a bassist], nobody can touch him. Bill [Ward], in his day, was a great drummer. Tony [Iommi, guitar], he's always gonna be the greatest — no one can touch him. And actually, to this day, I still don't understand how he plays guitar, 'cause he's got no fingertips; he plays with plastic fingers."
Osbourne also praised the legendary guitarist for how he soldiered on with Sabbath's planned reunion even after being diagnosed with the early stages of lymphoma almost a decade ago. "I mean, there is a man," he said. "When he got diagnosed with cancer, he just dealt with it. That's him. I'm going [imitates crying sound], and he's, like, 'Whatever I have to do.' He's like that. He's always been like that. Very calm."
According to Ozzy, Tony was always the most important member of Sabbath. "He was the band, really," Osbourne said. "We were all part of the band, but he was the most irreplaceable one [out of all of us]."
The frontman also touched upon his personal relationship with Iommi, revealing that he still looks up to his longtime friend and bandmate.
"People will say to me, 'Why did you always sing on the side of the stage?' I don't f–king know. I don't know," he said. "It's just fear, I suppose. 'Cause Tony, he's one of the few people who could walk into this room right now and I would f–king feel intimidated. He intimidates the f–k out of me — and he knows it."
Elsewhere in the interview, Ozzy expressed his disappointment that Ward ended up not being involved with the making of 13 or the tour in support of the LP.
"The only sad thing about the album was Bill wasn't playing [on it]," he said. "We would have been still doing the f–king album now. … He takes so much time over everything."
"Tony said to me one day, he said, 'You know Bill's trouble — he still thinks everybody's gonna rip him off,' which I get," he continued. "I ain't no better than Bill, or any of 'em, and I'm lucky to have a wife that's on my side. 'Cause these f–kers, man, they come in and they give you all this bulls–t, drive you around in a flashy car, show you a bit of money. And you can sue them, but it takes you a f–king lifetime to win. The lawyers win. Sharon's father was a renowned f–king ripoff artist."
"We got stung for a lot of cash," Ozzy added. "But there again, I said to Bill Ward one day on the phone, a while ago now, I said, 'You know what? In a way, as far as I'm concerned, it was a blessing that I never got all that cash upfront, 'cause with what cash I had, I'd done a good job of nearly killing myself.' I wouldn't be sitting here, and that's for sure. If had got all the millions upfront, we would have been f–king dead."
Osbourne recently revealed that he has Parkinson's disease. His new album, Ordinary Man, will be released on February 21st. Click on highlighted titles to listen to songs from the album.
Ordinary Man
Under The Graveyard
Straight To Hell
Ordinary Man was recorded in Los Angeles and features producer Andrew Watt on guitars, Duff McKagan (Guns N' Roses) on bass and Chad Smith (Red Hot Chili Peppers) on drums.