OVERKILL'S BOBBY "BLITZ" ELLSWORTH DISCUSSES NEW MUSIC AND "THE LEGENDS OF THRASH" TOUR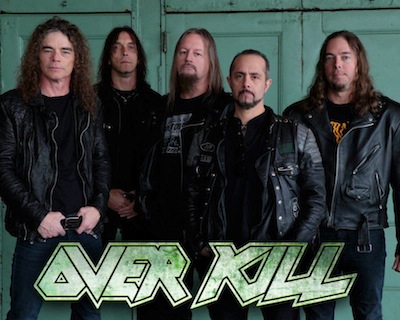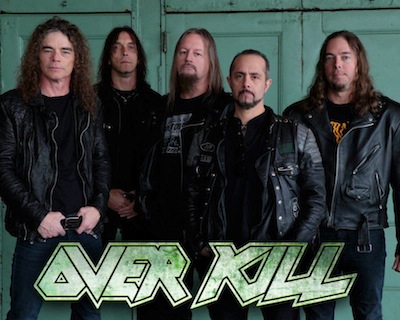 Steppin' Out's Brian Aberback recently interviewed Overkill vocalist Bobby "Blitz" Ellsworth. The full interview will be available on November 20th, but for now, please read an excerpt below.
Steppin' Out magazine: How is the new album coming along? Do you have a release date scheduled?
Ellsworth: The majority of the music is done and I have to finish up the vocals after this tour. I come in a little later as the music develops. It gives you a leg up being used to the music you're singing over. We're on target for early March.
Steppin' Out magazine: How would you say the new material differs from The Electric Age, your last album?
Ellsworth: The new record has a blend of what we've done over the past half-decade. I'm noticing it's a more punchy heavy metal record with more dimension than the last record had. Where is it going to end up on the food chain? I really don't know. But my feeling is it's an eclectic collection of moments from us. The Electric Age came across to me as kind of a two-dimensional thrash record. This one is punchy but has a whole different bunch of ways to go and things to hear on it.
Steppin' Out magazine: The tour is called Legends of Thrash. Do you consider Overkill legends?
Ellsworth: I suppose in regard to time. I'm not going to say it's legendary in regard to impact. I don't think that's in me to say something like that. But once you start pushing decades, to do 30 years of touring, there's got to have been some history made there, and we're still doing it at a high level.
Steppin' Out magazine:To what do you attribute Overkill's longevity?
Ellsworth: There's obviously commitment and hard work. There's also a certain responsibility across the board when you're part of this large, underground community that pulses and breeds. We've always stayed true to ourselves. We are what we are: a thrash band. There's never been an identity crisis. It's a very emotional type of music that's measured by responsibility and longevity. That's how it works. It's not something that's disposable or measured in ticket sales or records sold. Every time you're doing a show that chain gets longer and harder and heavier to break.
Steppin' Out magazine:What are your thoughts on Kreator and Warbringer?
Ellsworth: With Kreator, it was cool that since the beginning [each band released its debut album in 1985] even though there was an ocean and language separating us; we've always been like cousins. I knew this tour with them was going to be a nice run. We take the show seriously but otherwise we don't take things too seriously. We get along great. I like Warbringer's endurance. They're on their fourth album and it takes a lot in this day and age to keep going. They're not quitters. They're the real deal.