OVERKILL RELEASED NEW ALBUM "THE WINGS OF WAR" TODAY, VIDEO FOR "WELCOME TO THE GARDEN STATE" RELEASED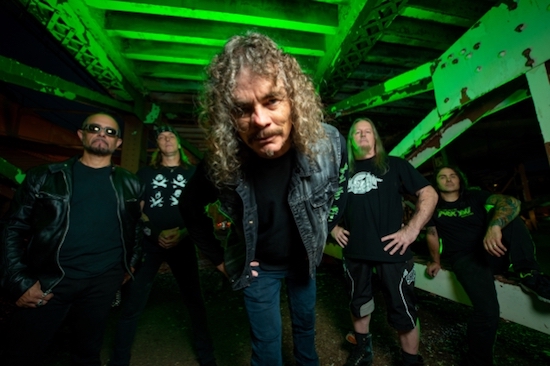 New Jersey thrash metal veterans Overkill have released the official music video for the song, Welcome To The Garden State, from from the band's 19th studio album, The Wings Of War, which is being released today (Friday, February 22) via Nuclear Blast.
The Wings Of War is the band's first studio recording with drummer Jason Bittner (Shadows Fall, Flotsam And Jetsam), who joined the band in 2017.
[Singer Bobby "Blitz"] Ellsworth said, "It was a blast making
The Wings Of War.
It is something old feeling new again, as our chemistry was altered by the addition of Jason Bittner. I was curious from the get-go, how would it pan out? I think what we accomplished here is a new, upgraded Overkill that embraced the new chemistry, while taking our roots into the present. The new formula produced not only more raw power, but more places to go with melody, a win, win. The key is being not only interested in the change, but part of it. I'll tell you what, it's still fun as hell making Overkill records."
The Wings Of War track listing:

1. Last Man Standing
2. Believe In The Fight
3. Head Of A Pin
4. Bat S–t Crazy
5. Distortion
6. A Mother's Prayer
7. Welcome To The Garden State
8. Where Few Dare To Walk
9. Out On The Road-Kill
10. Hole In My Soul