GUITARIST VIVIAN CAMPBELL ON DIO, "I WAS ALWAYS VERY UNCOMFORTABLE AROUND RONNIE, BECAUSE I WAS A FAN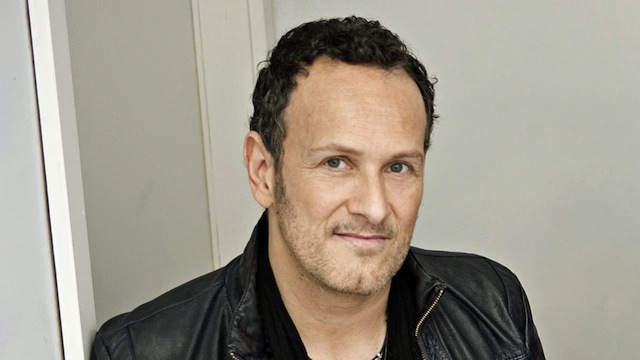 Def Leppard and Last In Line guitarist Vivian Campbell was a recent guest on WRIF's Meltdown, highlights from the interview appear below (transcribed blabbermouth.net).
His opinion of the Ronnie James Dio hologram tour:
"…"I've never seen the hologram, so I don't really know. But I do understand why they would wanna do it. I'm sure there's a lot of people who never had the chance to see Ronnie when he was alive, so that's about as close as it'll come. And then, on the other end of the equation, there is Vinny and I in Last In Line, the two remaining members of the original band, and we're also doing our part to keep the legacy of the music alive while still looking forward by writing and recording and releasing our own original music…"
Discussing his relationship with Ronnie James Dio:
"I hadn't seen Ronnie [in many years]. I got fired from the band halfway through the Sacred Heart tour. And the way everything went down and the way it was portrayed in the press afterwards left a very, very uncomfortable taste in my mouth. I wanted nothing to do with DIO, with the legacy or the music. It was only after Ronnie passed away, and maybe that's what it took, but it was only after that, and together with a couple of other things that were going on in my life, that kind of led me back to opening that door again and reconnecting with Vinny and Jimmy and playing that music, and that ultimately led to the Last In Line. But I do feel that Ronnie and I, had the gatekeepers gotten out of the way, I do think if we bumped into each other in the street, we eventually would have made up."
He continued, "Ronnie was a complicated human being, like we all are — there's no black and white in human nature; it's all very nuanced. Even when I was in the band with Ronnie, I feel like he was very, very proud of me when I first came to L.A. and we were doing the Holy Diver record. He kind of looked at me like his Randy Rhoads, if you want — "a great guitar player I discovered; this unknown guy." And he had kind of this fatherly attitude towards me. That's kind of how I looked at it. It was a bit like being in a band with your stepdad, who happened to be an international rock star. I was always very uncomfortable around Ronnie, because I was a fan. I had Long Live Rock 'N ' Roll, Rainbow Rising I had the Heaven And Hell album, The Mob Rules — I had those records. I was listening to those records when I got a call to come and audition for this new band. So to be transported then from Belfast, Northern Ireland to L.A. in the '80s and then to be around these guys and working with them, it was very, very bizarre to me — it was quite surreal. And I never really felt like I had a proper relationship with Ronnie because of that, and because of my own discomfort and unease of being around these people that I felt were icons to me.
Anyway, so one thing led to another, we made some great music, we wrote those records, we wrote the songs, we made great albums, we had great tours, we had great success. Unfortunately, getting back to the industry gatekeepers, more to the point, I don't think I ever would have been fired from the band without the influence of those people. I think that Ronnie and I connected on a level that was very, very beneficial musically. Maybe not so much personally — our personal relationship was a little bit strained because of that inherent discomfort and that generational gap and whatnot. But the one thing we could do together was write and record great music. And I know that Ronnie knew the value of that. And that's maybe why I was particularly angry with him when I got fired…"
Listen to the Campbell's interview below.