ORIGINAL Y&T DRUMMER, LEONARD HAZE, PASSES AWAY AT 61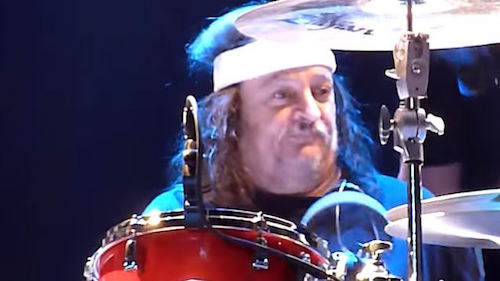 Leonard Haze, original drummer for legendary Bay Area rock band Y&T, passed away Sunday evening, September 11th, 2016, at his home in Hayward. He was 61 years old.
Haze had been battling chronic obstructive pulmonary disease (COPD) for several years, making breathing difficult. Even so, he had fought to keep playing drums, performing regularly with his band, HazeXperience, and joining Y&T on-stage at the Fillmore in San Francisco in both 2015 and 2016. HazeXperience was scheduled to open for Y&T at the Mystic Theatre in Petaluma November 18th and 19th, and had been in the midst of recording an EP of new material.
"Leonard was not only a bandmate, but a close friend, sharing not just a passion for music, but also our appreciation for fast cars and cool RC planes," said HazeXperience guitarist Jim Bradley. "Leonard was taken from us way too soon."
"Leonard was a good friend, a great drummer, and a true ambassador for the world of rock 'n' roll," said Jeffrey Winslow, lead singer for HazeXperience. "I'm shocked that he's gone, but thankful I got to know him while he was here."
Haze was a founding member and one of the principal songwriters for the Bay Area hard rock band Yesterday & Today, later known as Y&T. He co-wrote some of their biggest hits, including Hurricane, Black Tiger, Mean Streak, Rescue Me, Dirty Girl, Forever, and MTV staple Summertime Girls.
It was Haze's bass drum prowess that made his powerful drumming style legendary and, thanks to it, Y&T quickly developed the reputation as a must-see live band and musical powerhouse, headlining shows with opening acts such as Van Halen, Mötley Crüe, Stevie Ray Vaughan, and many others. Y&T's hard-driving style helped them land worldwide tours alongside such acts as AC/DC, Aerosmith, Ozzy Osbourne, and Rush, which resulted in the development of a strong following throughout Europe.
In the early Nineties, Haze played drums on Deep Purple vocalist Ian Gillan's solo album, Toolbox. Gillan subsequently asked him to join the band, and Haze was part of one of the first rock bands ever to not only perform, but tour, behind the "Iron Curtain," traversing the Soviet Union during the cold war. After that tour, Haze became a permanent member of the Ian Gillan Band, continuing with a two-year world tour and performing in 71 countries.
In 2002, Haze reunited with Y&T and went back on tour with them throughout the United States until they parted ways in 2006.
Haze's final performance took place August 20th with HazeXperience at the Quarter Note in Sunnyvale.