NEW BOOK, "LONG LIVE QUEEN: ROCK ROYALTY DISCUSS FREDDIE, BRIAN, JOHN & ROGER," OFFERS UNIQUE PERSPECTIVE OF CLASSIC BAND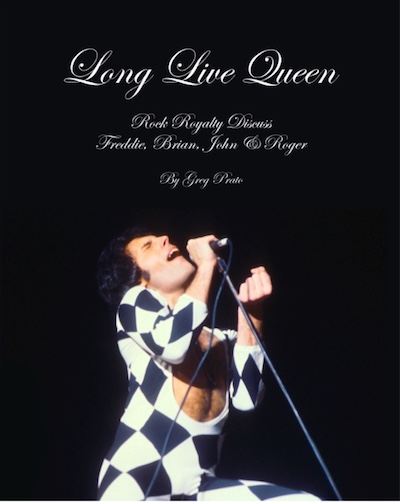 There is a reason why there have been countless books penned over the years about Queen and their legendary singer, Freddie Mercury – they were unquestionably one of the greatest and most universally beloved rock bands of all-time.
However, most of these books can be neatly filed into one of three categories – a recounting of the band's history, an examination of the singer's life story, or a collection of photographs.
Long Live Queen: Rock Royalty Discuss Freddie, Brian, John & Roger is the first-ever book to be comprised solely of interviews conducted with renowned musicians, who discuss what they admire most about Queen, their favorite songs and albums, and other standout Queen-related memories (attending shows, meeting members, etc.) from throughout the years.
The result is a book that uncovers facts, insight, and analysis, and adds a new spin on what truly makes Queen the champions of the world.
Our very own Eddie is quoted in the book as saying, " I was in 6th grade and heard Bohemian Rhapsody. It struck me instantly. The heavy part and the whole "Mama mia" bit caught my attention. I remember we did a talent show and put a band together to lip synch that song. I wasn't in the band, but instead, worked the lights, which was quite a challenge with all the different passages in that song. I remember it very clearly. It made a big impact on me and I was pulled in by the fact that they sounded like nobody else, and had so many cool sides to them – even in that one song.
I saw them on the Hot Space tour at Madison Square Garden – when I was in high school. That wasn't a great period for the band at the time in the US. Where Queen were always mega-stars outside of America, they weren't always that in the US. Hot Space was kind of the beginning of the end as I remember it, and they didn't play much in the US the rest of the way. They had gone a little too much away from hard rock. I actually remember my friends and I went more to see Billy Squier – who was opening and new at the time. I also saw them once with Paul Rodgers, who I thought was better than most people say, and twice with Adam Lambert. Nobody is Freddie, but the music is so great that it's still a killer show."
Long Live Queen: Rock Royalty Discuss Freddie, Brian, John & Roger is available as a paperback version [222 pages, $12.99], a Kindle download [$7.99], and is free for Kindle Unlimited members.
Read excerpts here.
Ordering info here for Paperback, Kindle, & Kindle Unlimited.