NEW BAND TO ET.COM: GRETA VAN FLEET TO RELEASE "FROM THE FIRES" DOUBLE EP ON NOVEMBER 10TH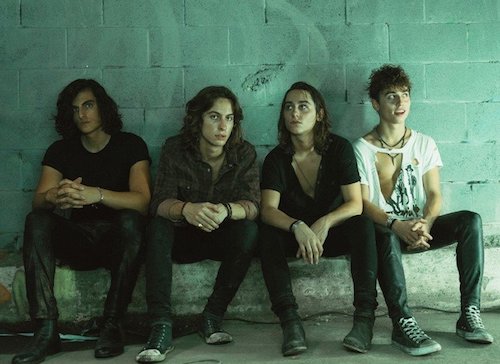 Greta Van Fleet, one of the most exciting up-and-coming rock bands making music today, and just named Best New Artist last night at the Loudwire Music Awards, will release From The Fires, an eight-song double EP, on November 10th (Lava/Republic Records).
From The Fires will feature on one disc four brand new Greta Van Fleet recordings as well as the four critically-acclaimed tracks from the band's break-out EP Black Smoke Rising, including Highway Tune (see video below), the band's debut single that spent five consecutive weeks at #1 on the Mainstream Rock Radio charts.
According to the band's vocalist Josh Kiszka, compiling the four Black Smoke Rising tracks with the four new recordings made for an ideal grouping. "All eight of these songs share a theme of basic humanity," said Kiszka.
From The Fires will be available both digitally and as a physical disc. For those fans that have already purchased the Black Smoke Rising tracks via iTunes, they are invited to complete their From The Fires double EP at a special price. Log onto iTunes for those details.
The cover art for From The Fires was conceived by Josh who said, "When we were all kids, our extended families and friends spent part of every summer together at a place called Yankee Springs. We were out in the middle of the woods, and every night, we'd sit around a campfire, play music and tell stories. I always loved that as it reminded me of ancient times when people would gather around the fires with the tribes' elders telling fables of wisdom and courage, passing down human history. That concept is where the cover art and title come from."
The band is featured in the Wall Street Journal, click here to read the story.
Greta Van Fleet – vocalist Josh Kiszka, brothers Jake (guitar) and Sam (bass, keys) and family friend Danny Wagner (drums) – is currently on tour in the U.S. having sold out every one of its headline shows through to the end of the year. Remaining dates are below.
October
29 The Troubadour, Los Angeles, CA* SOLD OUT
30 The Troubadour, Los Angeles, CA* SOLD OUT
November
1 The Rialto Theatre, Tucson, AZ* SOLD OUT
30 Lincoln Hall, Chicago, IL* SOLD OUT
December
1 Limelight Eventplex, Peoria, IL (WIXO Nutcracker 20 X-Mas Show) (GVF co-headline) SOLD OUT
2 Sokol Auditorium, Omaha, NE* SOLD OUT
5 Bowery Ballroom, New York, NY* SOLD OUT
6 Bowery Ballroom, New York, NY* SOLD OUTT
12 Capone's Johnson City, TN SOLD OUT
14 Delmar Hall, St. Louis, MO* SOLD OUT
15 Granada Theatre, Lawrence, KS* SOLD OUT
16 Wooly's, Des Moines, IA* SOLD OUT
18 Mercy Lounge, Nashville, TN* SOLD OUT
19 Mercy Lounge, Nashville, TN* SOLD OUT
28 St. Andrews Hall, Detroit, MI SOLD OUT
29 St. Andrews Hall, Detroit, MI SOLD OUT
30 Intersection, Grand Rapids, MI SOLD OUT
For more information, please visit gretavanfleet.com.
Greta Van Fleet is four young musicians, brothers Josh (vocals), Jake (guitar) and Sam (bass/keys) Kiszka, and best friend Danny Wagner (drums). Josh and Jake have just turned 21, Danny and Sam are 18. They're all from the tiny Michigan hamlet of Frankenmuth known for its family-style chicken dinners and the world's largest Christmas store. All four were raised on their parents' extensive vinyl collections (shared influences are Muddy Waters, Lightnin' Hopkins, The Who, Jimi Hendrix), and were encouraged to be creative, daring and innovative. Each band member has killer musical chops and Josh has a voice that is simply jaw-dropping. The band is making some of the most exciting, high-energy, sweaty, sexy rock'n'roll heard in a long time, and are bound and determined to bring real rock'n'roll back to the mainstream.