KEYBOARDIST DEREK SHERINIAN SAYS BCC SINGER/BASSIST GLENN HUGHES IS "NOT HUMAN"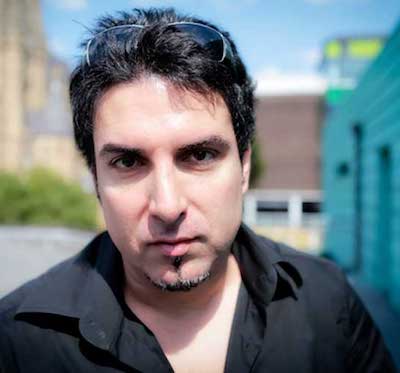 Ruben Mosqueda contibutor for KNAC.com spoke with Black Country Communion and Sons Of Apollo keyboardist Derek Sherinian. Highlights from the interview appear below.
KNAC.com: You also provided some keyboards with KISS on the Revenge tour. How did you land that role? What was that experience like?
Sherinian: Eric Singer [KISS drummer] is my best friend, we played together in the Alice Cooper band then he brought me into that audition for the KISS tour. I was hired right away, I provided background vocals, keyboards and some sound effects, like explosions and things like that. It was a great experience. I was off stage so that was kind of strange to me but at the same time it was KISS and I saw it as a great opportunity to learn from Gene [Simmons] and Paul [Stanley]. That kind of thing you can't learn in books or download from an app, you have to be hands on. I really valued that experience.
KNAC.com: I had nearly forgot about your time with the Alice Cooper band.
Sherinian: Alice gave me my first break. I played with him sporadically through late '98 if I recall correctly.
KNAC.COM: You also performed in studio and live with Yngwie Malmsteen. What was that like? I've met him and interviewed him on a few occasions. He's got an ego, no question. He'd even admit to that. Do you think he gets a bad rap?
SHERINIAN: Yngwie definitely speaks his mind and he's unfiltered. I think when you have an unfiltered personality you're going to make some people unhappy inevitably. I will say that Ynwgie is one of the greatest musicians that I have ever had the pleasure to work with, he's a force of nature. His fluidity on his instrument and the fire that comes out is just unparalleled.
KNAC.com: You're right about being unfiltered. Yngwie upset a number of his former singers recently. One was ironically Jeff Scott Soto, who sings [in your current project] Sons Of Apollo.
Sherinian: I know, I know, I read that. Who knows what was really said. Sometimes things get lost in translation because of the different languages and things get twisted up. I'm not taking sides on this. Can't we all just get along?! [laughs]
KNAC.com: We know your work with Dream Theater. It didn't end how you would have liked. How do you look back on your time in that band?
Sherinian: I'm so grateful for my time in that band because it made me step up my musicianship. As a kid my dream was to land a gig in a rock band not a prog band; Dream Theater was a great experience and the first time people got a chance to hear me play. It put my name on the map and was instrumental in setting up my solo career and a lot of other things actually–for that I'm grateful.
KNAC.com: Black Country [Communion], you just unleashed your 4th effort, BCCIV. It appears at this point that BCC will be more of a recording entity than a touring act. I think most of us fans would rather have that than nothing.
Sherinian: Oh, thank you. I agree with you. We're very proud of that record, we recorded it in five days. Can you believe that? Glenn [Hughes] is in top form, how he keeps things at such a high level is not human. [laughs]
KNAC.com: I have spoken with people that have done some recording with Glenn. They've made mention that he records vocals in one take. Have you this in BCC?
Sherinian: Absolutely. He does things in one or two takes. If he's not happy with something he'll do a second take but he usually does things one time. It's amazing to see in studio, there's no trickery, nothing like that. We do nothing to the vocal after he's recorded; he's just got that wonderful voice. He really kicked ass on this album. I have to say that because Glenn is such a fantastic singer that often times his bass playing gets overlooked. He's such a kick ass f–king bass player, Billy Sheehan is a kick ass bass player, but in different ways. Glenn's playing sounds like an agitated buffalo. [laughs]
KNAC.com: Things are top notch with BCC.
Sherinian: I agree, in both bands actually, we have such high quality control with Sons Of Apollo too. I'm just so grateful to be a part of two amazing super groups with these such amazing musicians.
KNAC.com: Often times when bands are put together with players with history in other bands that chemistry isn't there. That's not the case with SONS OF APOLLO, there's not a weak link in this band.
Sherinian: Thank you. What's amazing is that I met Bumblefoot for the first time on day one in the studio; it felt like I had just met a long lost brother for the first time. I felt like that time in the studio it was like we were making up for lost time. The chemistry that you hear is a correlation from those sessions. I'm so excited about the future after we've done a couple tours and we get into the studio for another record.
Read more at KNAC.com.
source: knac.com