MOTORHEAD'S "AFTERSHOCK" RUMBLING YOUR WAY ON OCTOBER 22ND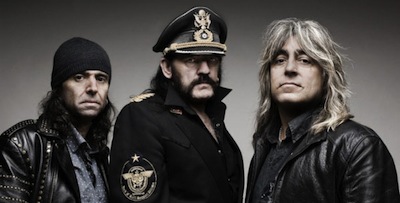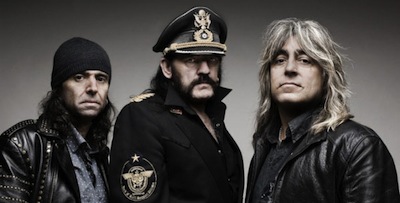 On October 22nd, Motörhead will deliver their 21st studio album, an enormous and prophetic Aftershock. Recorded at NRG Studios in North Hollywood, it is a true leveler, a crushing confirmation of everything Motörhead stands for, marching from the dust storm to deliver 14 belting statements which see Motörhead in perhaps their best writing form for years. There's swagger, there's punch, there's speed and there's dirty filthy grooves, Lemmy Kilmister, Phil Campbell and Mikkey Dee showing clearly that Motörhead is not simply a band, it's a genre.
That genre, more than ever, resonates with hearty independence and swashbuckle. Whether it's Heartbreaker throwing hooks and riffs into your head, the double-kick concussiveness of Paralyzed with Campbell's fuelled attack, or the thunderous ride-off-the-Rickenbacker Motörcharge of Going To Mexico, Aftershock takes gleeful twists and turns which re-announce the Motörlegend. There's the smokey biker bar blues in the shape of Dust And Glass, Lemmy's late-night vocals evoking last-call and melancholy, the pogo-powered punk-spiked stab of Queen Of The Damned and the deliciously steamy, humid mournful Lost Woman Blues which midway through decides to kick over the stool and stomp out the saloon door.
"Steal it if you must, buy it if you can!" says Lemmy, who's pride in the album is so immense that guests to his home and dressing room in the last couple of months have been treated to extremely loud airings of the rough mixes, while Phil Campbell adds, "I really think the variation on the album shows that we've dug deep and produced some of our best work for a long time."
"It is," says Mikkey Dee, "a really, really strong Motörhead album, one that really does define everything this band stands for."
Aftershock track listing:
Heartbreaker
Coup de Grace
Lost Woman Blues
End Of Time
Do You Believe
Death Machine
Dust And Glass
Going To Mexico
Silence When You Speak To Me
Crying Shame
Queen Of The Damned
Knife
Keep Your Powder Dry
Paralyzed
For more information, visit imotorhead.com.