LIVE ALBUMS FROM UFO, ROBIN TROWER AND TEN YEARS AFTER ARRIVE ON OCTOBER 8TH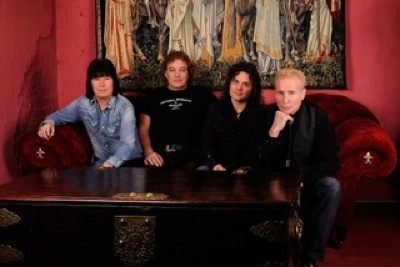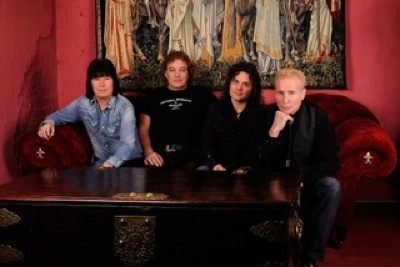 Chrysalis will open its vaults in October for a trio of live collections that spotlight rare and unreleased music from three of stellar British artists: Ten Years After, Robin Trower, and UFO.
Ten Years After's Recorded Live Robin Trower's State To State: Live Across America 1974-1980, and UFO's Hot 'N Live-The Chrysalis Live Anthology 1974-1983 will all be available as 2-CD sets on October 8th for a list price of $18.98 each.
Ten Years After achieved stardom in America thanks to its epic performance at Woodstock in 1968. Over the next five years, the blues-rock band would score eight Top 40 albums in its native England. The band's classic Recorded Live, originally released in 1973 as a double-LP, has been remastered and expanded with seven previously unreleased performances, including the band's version of Lightnin' Hopkins' I Woke Up This Morning recorded in Rotterdam.
Influential guitarist Robin Trower emerged in the late 1960s as a member of Procol Harum before going on to earn further acclaim as a bandleader. State To State: Live Across America 1974-1980 charts his rise to fame throughout the 1970s, from small clubs to major stadiums.
The collection features 24 previously unreleased live performances recorded in Philadelphia and California (1974), Illinois (1976), Oklahoma (1977) and Missouri (1980). Among the standout tracks are several songs from his gold-certified breakthrough Bridge of Sighs (1974), including Too Rolling Stoned and Day of the Eagle.
UFO is not only one of the UK's most prolific rock bands, but its music has also influenced an entire generation of modern metal groups like Iron Maiden and Metallica. Hot 'N Live-The Chrysalis Live Anthology 1974-1983 is a double-disc set packed with rare live tracks from these hard rock pioneers. It features eight previously unreleased performances recorded at the band's legendary 1980 Marquee shows, including the songs Too Hot to Handle and Love to Love.
The first disc covers guitarist Michael Schenker's tenure with the group (1974-1978), while the second disc highlights the period with guitarist Paul "Tonka" Chapman (1980-1983). Hot N' Live includes new liner notes based on a recent interview with bassist and founding member Pete Way.
Ten Years After's Recorded Live
Disc One – Original Record One:
1. One Of These Days
2. You Give Me Loving
3. Good Morning Little Schoolgirl
4. Hobbit
5. Help Me
Bonus Tracks:
6. Time Is Flying
7. Standing At The Station
8. Jam
Disc Two – Original Record Two:
1. Classical Thing
2. Scat Thing
3. I Can't Keep From Crying Sometimes
4. Silly Thing
5. Slow Blues in C
6. I'm Going Home
7. Choo Choo Mama
Bonus Tracks:
8. Help Me Babe
9. I Woke Up This Morning
10. Sweet Little Sixteen
11. Jam
Robin Trower's State To State: Live Across America 1974-1980
Disc One:
Philadelphia 1974
1. Twice Removed From Yesterday
2. Bridge Of Sighs
3. Lady Love
4. Daydream
5. Too Rolling Stoned
6. I Can't Wait Much Longer
7. Day Of The Eagle
8. A Little Bit Of Sympathy
California 1974
9. Alethea"
10. Rock Me Baby
Disc Two:
Illinois 1976
1. Day Dream
2. Same Rain Falls
3. Sailing
4. Long Misty Days
5. I Can't Wait Much Longer"
6. Too Rolling Stoned
Oklahoma 1977
7. Somebody Calling
8. Bluebird
9. Messin' With The Blues
Missouri 1980
10. The Ring
11. Jack And Jill
12. The Shout/Hannah
13. Victims Of The Fury
14. Mad House
UFO's Hot 'N Live-The Chrysalis Live Anthology 1974-1983
Disc One
1. Oh My
2. Give Her the Gun
3. Prince Kujuku
4. Space Child
5. Mother Mary
6. Can You Roll Her
7. Highway Lady
8. I'm a Loser
9. Let It Roll
10. Lights Out
11. On With the Action
12. Doctor Doctor
13. Ain't No Baby
14. Rock Bottom
15. Pack It Up (And Go)
Disc Two:
1. Chains Chains*
2. Lettin' Go
3. Long Gone*
4. Cherry*
5. Only You Can Rock Me*
6. No Place to Run*
7. Love to Love*
8. Makin' Moves
9. Too Hot to Handle*
10. Hot 'n' Ready*
11. Mystery Train
12. Lonely Heart
13. We Belong to the Night
14. When It's Time to Rock
15. Blinded By a Lie
* Previously Unreleased