MOTÖRHEAD UNLEASH #MOTÖRHEADFORLIFE CONTEST TO CELEBRATE THE RELEASE OF THE "AFTERSHOCK" TOUR EDITION CD AND THE 2014 WORLD CUP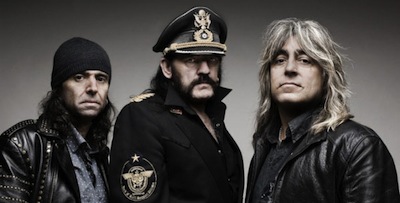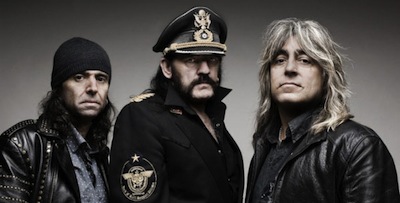 Iconic hard rock band Motörhead have been churning out their unique brand of Rock N' Roll for more than 35 years. To celebrate the reissue of their 21st album "Aftershock" and the 2014 World Cup, the band is teaming up with loudwire.com to give away limited edition Motörhead World Cup tees.
Ten lucky winners will be selected to receive a special edition Motörhead World Cup shirt representing the country of their choice by posting a photo with a sign of #motörheadforlife to Twitter and/or Instagram and hash tagging #Motörheadforlife and tagging @myMotorhead and @loudwire.
In celebration of the 2014 World Cup in Brazil, the contest video for the song Going To Brazil from the forthcoming tour edition CD, can be viewed below.
The band is currently gearing up for their European summer tour. See tour dates below.
Motörhead will reissue it's 21st studio album Aftershock via UDR/Motörhead Music on July 29th in North America under the title Aftershock-Tour Edition.
The expanded edition will contain a Bonus Live CD consisting of live material comprised from the band's historic appearances in early 2014.
In further celebration of the reissue, UDR/Motörhead Music will be releasing a video for the song Lost Woman Blues filmed live from The Warfield in San Francisco on Friday April 18th, 2014. The show was part of the band's warm-up mini tour for the upcoming European festivals. The song's performance, verve, swagger and attitude show Motörhead have maintained their rich ripeness and added another layer of grit and polish. The video is set to premier on VH1 Classic on July 7th.
Aftershock proves one major thing no-one should ever forget…they are Motörhead, and they play rock'n'roll!
Aftershock Track Listing:
Heartbreaker
Coup de Grace
Lost Woman Blues
End of Time
Do You Believe
Death Machine
Dust and Glass
Going To Mexico
Silence When You Speak To Me
Crying Shame
Queen of the Damned
Knife
Keep Your Powder Dry
Paralyzed
Bonus Live CD Track Listing:
Damage Case
Stay Clean
I Know How To Die
Metropolis
Over The Top
The Chase Is Better Than The Catch
Rock It
Lost Woman Blues
Doctor Rock
Just `Cos You Got The Power
Going To Brazil
Killed By Death
Ace Of Spades
Overkill
Motorhead tour dates:
6/24 Milan Ippodromo Italy
6/27 Wetzikon Eishalle Switzerland
7/4 London, England Hyde Park United Kingdom
7/6 Roitzschora With Full Force Germany
7/11 Aix Les Bains Festival Musilac France
7/25 Moscow Crocus City Hall Russian Federation
7/27 Minsk Palace Of Sport Belarus
8/1 Wacken Wacken Open Air Germany
8/3 Lokerse Lokerse Feesten Belgium
8/10 Colmar Festival de la Foire aux Vins France
9/22 – 9/26:
Miami & Key West / Cozumel, Mexico, Florida & Mexico Motörhead's Motörboat United States Minor Outlying Islands